Bryan Press named NABS director of sales
The former Shaw Media sales lead has joined the charitable group.
Media sales veteran Bryan Press has signed on with NABS as the charitable group's director of sales for the NABS Media Sale.
Press takes over the position from Phil Goodwin, who is retiring at the end of the year.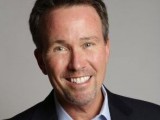 Prior to this move, Press most recently worked as national media sales team lead at Shaw Media, a role he held for five years.
Formerly a NABS Canada board member, Press currently serves as president of the Canadian Association of Broadcast Representatives, which promotes 13 radio, TV and online content providers.
Press will work closely with Julie Myers, NABS board of directors portfolio lead on for the Media Sale as well as Goodwin during the transition period.
The Media Sale is NABS Canada's largest source of revenue through the year, marrying donated inventory with client demand for media at discounted rates, with the proceeds going to the charitable group. Formerly called the NABS Ad Auction, the sale now runs year round.