Cairns oneil celebrates five years
David Cairns and Sherry O'Neil on growth and goals for 2017 as the agency marks the milestone.
Industry veterans David Cairns and Sherry O'Neil first launched their agency when they saw a gap in the market. Cairns said they saw major media agencies with what he described as "superficial" plans generated by junior staff. The goal of cairns oneil would be to have senior staff servicing clients. It's something Cairns is proud to say the agency has stuck to as it celebrates its fifth anniversary.
The milestone was celebrated with a party last week at Toronto's The Chase restaurant.
"That's something that we're really proud of, that we've managed to remain true to our vision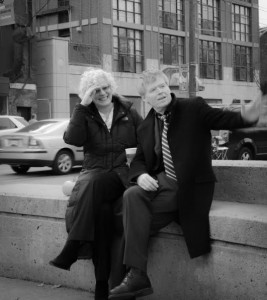 ," he said. "Half of our staff have over 10 years of experience."
When the agency opened its doors five years ago, it was just Cairns and O'Neil manning the shop. The staff has since grown to 15, with plans to hit 18 or 19 by the end of the year.
Cairns said the majority of recent growth has been in the digital end of the business, which has jumped 300% in the past year. One-third of the staff at cairns oneil are now digital specialists among
Overall growth at the agency was 13% last year, said O'Neil. In order to beat that number in 2017, the agency will be aggressively pursuing more digital-only business. Current digital-heavy clients on its roster include Harry Rosen, Eastlink and Discount Car and Truck Rentals.
Recent client wins include Giant Tiger, Catelli and its sister brand Olivieri. O'Neil said that cairns oneil's success rate in winning new business sits about 35% for the past year. Generally Cairns oneil pitches on business that is $4 to $5 million and lower, said O'Neil. "Global agencies wouldn't want some of the clients we pitch for because of the size, but we make them profitable," she said.