Abcon Media adds to Vancouver parking network
With OOH space at just as much of a premium as the city's real estate, the company has taken up residence on columns, walls, barriers and other faces.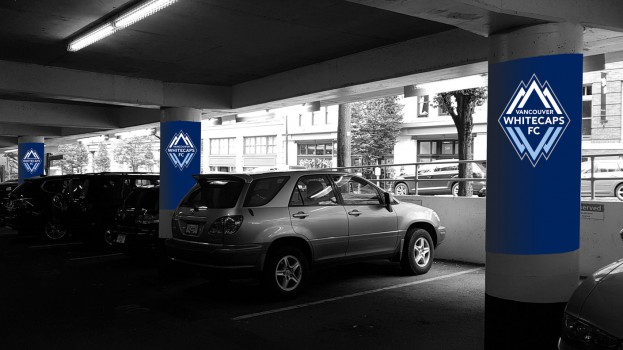 It's no secret that real estate in Vancouver is at a premium — but it's not just homes that have people scrambling for space. There's also a shortage of high-quality placements for OOH advertisers.
That's according to Les Abro, CEO at Abcon Media. Abro and his company have been capitalizing on more unconventional out-of-home options since its inception more than two decades ago. Abcon has already dipped its toes into the parking lot scene in Vancouver with its Boom-Ads on the gates of parking lots and garages. Now, the company will add columns, wall banners and ads on barriers to its inventory in the city.
"It's very difficult to find billboard space in Vancouver," Abro told MiC, which he asserted is because one company holds somewhat of a monopoly over the city. although he would not say which one. According to the Canadian Out Of Home Measurement Bureau (COMB), which bases its estimation off of its membership and includes the majority of OOH companies in Canada, the majority of OOH inventory in Metropolitan Vancouver is owned by Pattison Outdoor. This includes panels, posters and billboards.
For Abro, this simply meant finding a niche, and that niche was parking.
"We had a relationship with the Vancouver Parking Authority, which is now called Easy Park, for 22 years when we first started doing the Boom-Ads because we noticed that no one was advertising in parking garages. Now we've added five or six new media types for these lots."
For competitive reasons, Abro wouldn't say how many faces Abcon's network now owns, but he did say the new additions increased its network in the city by 25%, adding an estimated 10.9 million impressions per year.
Parking lots are vital to Vancouver advertisers based on the general behaviour of the population, said Abro. "It's not like Toronto. People drive in from the suburbs, they drive through town, they drive a lot."
The network will also likely target affluent Vancouverites (reaching an estimated 200,000 of them per month) — which Abro said is the case not only because of the demographics of Metro Vancouver alone (Abro told MiC  that average household income is $96,000, up from $83,000 in the 2011 census) but simply by virtue of owning a vehicle.
"Advertising agencies and media buyers certainly look at buying a car as being affluent," he said. "It's a natural connection. If you go to the airport, the parking garages are full all the time."
The neighbourhoods targeted include the financial district, Chinatown, Gastown, Yaletown and Coal Harbour.