Snapchat part of Jameson's plan to make a St. Patrick's Day splash
The whisky brand has launched filters that give consumers another option if they forgot to wear green as part of this year's holiday-focused campaign.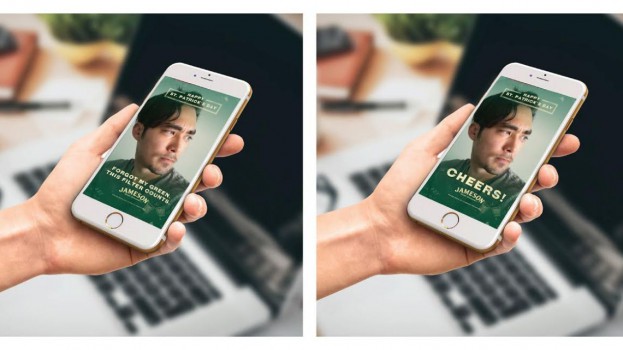 Corby Spirits and Wine's whisky brand Jameson is experimenting with Snapchat this St. Patrick's Day, using the impermanent social media platform to let consumers show how they're celebrating.
It's a key time of year for Jameson to reach out to its core target – adults 25 to 40, with a skew towards males. According to numbers from Maria Sweeney, senior brand manager of imported whiskies at Corby, 10% of Jameson's annual sales are made during March.
With media from Media Experts and Hill+Knowlton on creative, the whisky brand has a one-day media buy on Snapchat with two filters that Sweeney said taps into the "Irish wit" of the day. The first branded filter will run from the beginning of the day until 5 p.m. and says "Forgot my green. This filter counts." and the second from 5 p.m. on says "Cheers."
"Snapchat lacks permanence and is rooted in the day-of type of activation," she said. "We're also activating on Facebook and Instagram, but Snapchat works to show what's happening in the moment and sharing that with friends. The lack of permanence connects to living in the moment."
The social media buy is part of the brand trying to own St. Patrick's Day in a way it hasn't before, said Sweeney. "We have always participated in the festivities, but haven't been loud about it," she said.
Jameson has also placed digital OOH ads in its major markets of Montreal, Toronto and Vancouver. Those say "On St. Patrick's Day the dress code is green, and holding our bottle counts." The brand also has in-bar signage and specials in Montreal, Toronto, Calgary and Vancouver and is running a live-to-air special with 102.1 The Edge at Toronto's Queen St. Warehouse tomorrow afternoon.