Motrin targets women at their pain points
The Johnson & Johnson brand is touring popular races and marathons to help boost unaided awareness.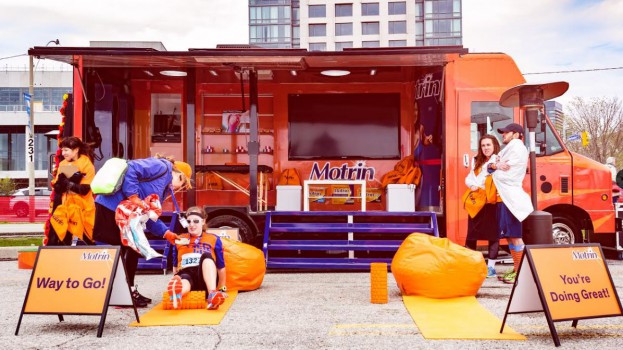 Johnson & Johnson pain relief medication Motrin is aiming to boost unaided awareness with a "Recovery Zone" tour that intercepts women directly when they might require the product.
While still investing in TV advertising, this tour is meant to intercept moments of pain in person – especially among women, a priority consumer group for the brand over the last few years, said Natacha Leduc, brand manager for Motrin at Johnson & Johnson.
"We have strong aided awareness, but the unaided awareness is low compared to other brands like Advil and Tylenol," she said.
Partnering with Jam Van, the Motrin team is touring Canada with stops at athletic events and gyms in Toronto, Ottawa, Calgary and Vancouver.
The tour launched earlier this month and runs through to the end of June. Each stop is helping visitors to get mobile after their race or gym session with foam rollers and yoga mats. Motrin also has a team on site signing up interested passersby for a mail-in trial of the product, as well as free water bottles and branded bags.