Banff '17: Is U.S. content a 'fool's game' for broadcasters?
Broadcast execs at Banff World Media Festival defend long-standing practices and long-term strategies.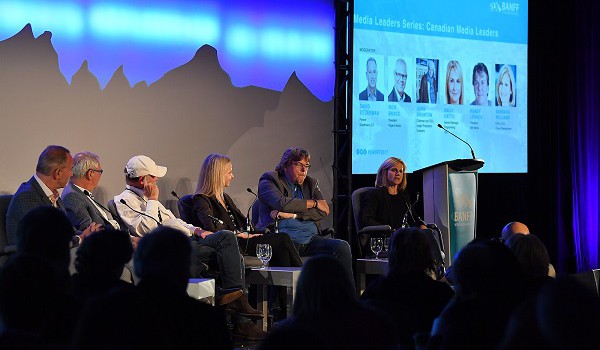 The age-old practice of acquiring American shows for broadcast on Canadian networks came under fire on the first day of the Banff World Media Festival on Sunday. Audience members lobbed difficult questions at a panel of broadcasting execs and the tone became heated as one panelist called the practice a "fool's game."
The 38th annual festival kicked off with a discussion featuring Rogers Media president Rick Brace, Bell Media president Randy Lennox, CBC's GM of programming Sally Catto, and Corus Entertainment's EVP and COO Barb Williams. The panel also included Insight Production's chairman and CEO John Brunton, who provided a producer's perspective on some of the biggest issues affecting the Canadian industry today – namely the funding of Cancon and competing with the growing OTT presence in the Canadian marketplace.
On the Cancon funding front, perhaps the most heated question of the day came during the audience Q&A when a delegate, who identified herself as a producer, writer and story editor, asked the panel to defend their decisions to spend "ludicrous amounts" of money purchasing and marketing "reprehensible crap" from the U.S. as opposed to developing and creating Canadian content. Williams and Lennox commented that across their channels their spend on foreign versus domestic programming works out to be about evenly split.
Williams also argued, however, that Canadian broadcasters don't have much of a choice when it comes to buying big American series, because if they don't simulcast, Canadian audiences would just watch those series on U.S. channels that are available in Canada (and broadcasters would, therefore, lose out on a major ad revenue opportunity).
"When we put Mary Kills People on the air… I don't get to say 'You know what, I'm going to put that on instead of NCIS.' If I put [Mary] on, NCIS is still on CBS. So I'm asking my Canadian drama to compete against the biggest broadcasters in the world, and with far, far, far greater resources than we'll ever have," she said. "We're never gonna have the resources to say we should do 12 hours of primetime [Canadian] drama a week and not worry about what that's going to do to us competitively when the other [U.S.] channels are still available."
Earlier in the panel, however, Insight's Brunton questioned the entire model of acquiring U.S. series in Canada. "I don't believe that my colleagues on the panel will exist unless they produce and partner and make their own content," he said. "Renting U.S. content, in the long run, is a fool's game."
Just how producers partner with Canadian broadcasters, of course, was also up for discussion, with moderator David Zitzerman of Goodmans LLP asking Corus' Williams to explain what rights the broadcaster will be looking for in future deals with producers. With ad dollars migrating away from linear and the cost of content increasing, she argued broadcasters too need to be more international in their deal-making.
Of course it wouldn't be a Canadian media panel if OTTs were not targeted.
Virtually all the panelists argued, unsurprisingly, for some form of taxation on foreign players entering into Canada. Bell's Lennox said it's not just Netflix that Canadian broadcasters need to be worried about. While the SVOD has more than 5.4 million subscribers in Canada, he said, Amazon has an estimated 2.8 million. In addition to those two major players are Apple, Hulu and Google which are all getting into (or are already in) the content game, he said. "If we look three years on, all five [players] will be omnipresent. The upside, as everyone is saying, is we get to have a rich uncle in terms of making better content. But the downside is we're now in a 10- or 11-company horse race when it comes to [buying content]."
With files from Jordan Pinto
Photo: Kristian Bogner