A front row seat to See It Be It with Oath's Marla Natoli
An insider's takeaways from a Cannes program to empower women in the industry.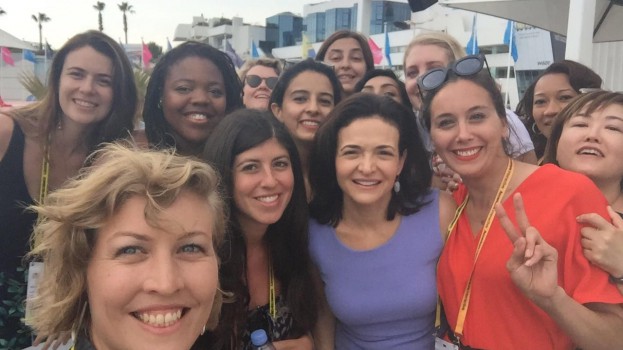 "Things become more achievable when you see them in action."
Marla Natoli, director of video, mobile, sales and strategy at Oath, said this is the key premise behind the Cannes Lions See It Be It program. Since 2014, it's brought 15 mid-career-level women together every year from across the globe to help them hone strategies that will accelerate their success and address gender imbalance in the industry.
This year, Natoli was chosen as one of those 15 candidates, and spent last week behind the scenes at the Cannes Lions Festival and meeting with top-ranking female executives (such as Facebook COO Sheryl Sandberg, pictured above, centre, next to Natoli, second from left in the front row). It's an experience she sought out to accelerate the next stage of her career. The Canadian market is lucky in how it stacks up globally in terms of gender representation, she told MiC. But as someone who has always wanted to head into the global market for experience, she was having a tough time seeing a clear path for someone at the director level.
Seeking tactics for her own growth, Natoli said what she ended up gaining from See It Be It was a desire to help the next generation of women who want to succeed in the industry.
"My intention going in was to break that ceiling," she said. "Especially going to the U.S. or Europe where they tend to have less diversity than we do in Canada. What I got out of it was so much more. I learned what I can do to help other people and not just how I'm going to move forward."
We asked Natoli to share the strongest insights she brought  back from Cannes.
The dialogue is getting larger than gender
Moving beyond the idea of bringing more women into the industry and leadership roles, Natoli said a lot of the discussion at See It Be It was about diversity in general, with gender being a piece of that larger issue. "If we are going to create truly ground-breaking work, then we need diverse opinions at the table, and that's something that has been lacking without a diverse workforce," she said.
The issue of diversity came up in the Cannes Lions judging rooms, which Natoli and the See It Be It group had behind-the-scenes access to  as part of the program. She said judges might see a piece of amazing global work, but if there wasn't a judge that knew the cultural backstory, then its significance could get lost in the shuffle.
Bring men into the conversation
See It Be It and other initiatives to increase female representation have largely been led by women, and that's something that Natoli said the group was told needs to change to truly move the needle.
At an Oath-presented panel called Makers Men, the group met with musician and actor Common, astronaut Leland Melvin and Jim Winters, president at Badger and Winters, who talked about how men are starting to step up and get into the conversation around gender equality.
Winters challenged the See It Be It group to go home and seek out a male mentor, which he said would help bring men into the dialogue of the struggles and roadblocks that women see in their own careers. Natoli said as part of that call-to-action, she will also be bringing men into the Makers Canada group to try and inspire further change at Oath's Canadian office.
Money talks
A good amount of discussion during the week focused on companies coming together and having formalized accountability around equality, said Natoli. Shelly Zalis, CEO of The Female Quotient, told the program's participants that ending wage discrepancies between men and women on their payroll is  one quick fix that companies can make. "A company can look into their databases and see what the men are making, what the women are making, push a button and end it. People are talking a lot about equality, but she said the action is lacking," explained Natoli.
Gather confidence and a personal board of directors
Confidence was a theme that came up constantly through the week. Madonna Badgers,  founder and chief creative officer at New York-based Badger & Winters and a See It Be It 2017 ambassador, encouraged ending the negative self-talk that women often engage in. Or in her words, "evicting the annoying roommate in your head."
Natoli said Wendy Clark, CEO and president of DDB North America put it more succinctly – "shut that bitch up."
The idea that people also gather energy and insight from people they spend the most time with was also an ongoing theme, said Natoli. She said every female mentor advised building a personal network, noting Karen Kaplan, chairman and CEO of Hill Holiday, encouraged the group to build a diverse personal board of directors that can be called on to help solve issues.
Image: The See It Be It 2017 group with Facebook COO Sheryl Sandberg.