Star Touch to shutter next month
After missing reader and advertiser goals, Torstar will shutter its tablet app at the end of July.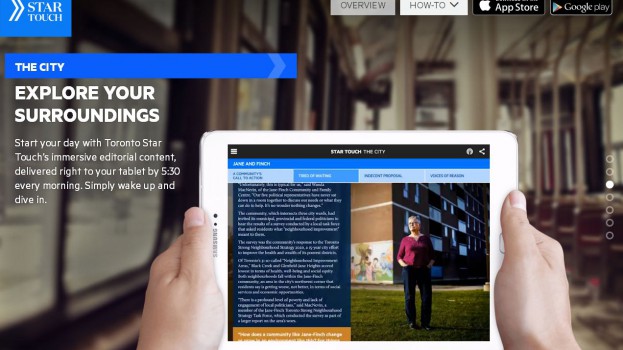 The Toronto Star has announced that its Star Touch tablet app will publish its final edition on July 31.
A total of 29 full-time staff and one part-time staff member will be let go as a result of the decision, confirmed Toronto Star spokesperson Bob Hepburn.
The media company had spent about $22 million on the app, with another $2 to $3 million planned for 2017, he confirmed.
The tablet app will be replaced with a universal app that will work on smartphones and tablets. That app is already available online for smartphones and will be ready for tablet use by the end of July, confirmed Hepburn.
Disappointing user numbers and advertiser revenue is the reason behind the closure, said Hepburn. The last public numbers on the app were that it had 275,000 downloads and 80,000 digital device users per month, he said.
Despite not hitting mass adoption, Hepburn said the company considered the tablet app an editorial success, being named a top news app by the Apple app store and winning other awards.
Star Touch was developed in partnership with the creators of the successful La Presse+ app, which was built with the intention of it replacing La Presse's print version. That milestone will be hit at the end of 2017.
The Toronto Star app never had that goal in mind. John Cruickshank, former Toronto Star publisher and president of Star Media Group, said when the app launched that it was intended to reach an audience between the ages of 30 and 50, with the older audience served by the Toronto Star print edition, which had an average reader age between 55 and 60. The media company reworked its newsroom to support Star Touch, hiring 60 journalists and designers to feed content into the app.
New Torstar president and CEO and Toronto Star publisher John Boynton told MiC last month that he was going to be making "reasonably fast decisions" on the fate of Star Touch.
"Yes, the volume didn't materialize, and yes the engagement is really high for the people who do use it," he said. "And another important yes is that, yes, the world is mostly smartphone users and not tablets. That's where the vast majority of consumers are, and the penetration of smartphones in Canada is extremely high."