Can Michael Phelps out-swim a shark?
The Great Gold Vs. Great White battle is part of this year's Discovery lineup.
Sure, he's got 23 Olympic gold medals in the pool, but can Michael Phelps take on a shark? A race between Phelps and a Great White shark is getting top billing during this year's Discovery Shark Week programming.
Phelps Vs. Shark: Great Gold Vs. Great White will run Sunday July 23 at 8 p.m. The showdown airs on the first night of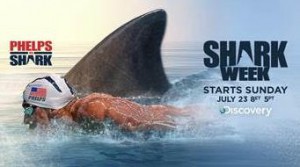 this year's Shark Week programming, an annual event that, thanks to its programming and promotion, has become a cultural touch point. This year's Shark Week runs from July 23 to 30. The following Sunday, Phelps is back, this time for Shark School with Michael Phelps at 8 p.m.
Also coming this year is Sharks and the City: New York. Hosted by Chris Noth (Sex and the City, The Good Wife), the show will explore how increasing seal numbers in New York harbours could indicate that Great White sharks may return to the area soon.
In addition to the day-and-date shark programming airing alongside the U.S. content, Discovery Canada will have nightly original content from Daily Planet. Co-hosts Ziya Tong and Dan Riskin will be running three shark-related mini-series all week, with "Weird Sharks," "Close Encounters" and "Like a Shark."
Universal Pictures is the only confirmed sponsor for this year's Shark Week on Discovery Canada at this time. The company will be promoting its new Charlize Theron-starring thriller Atomic Blonde, which comes out on July 28.
Nissan, which went big with its sponsorship three years in a row — first creating a fake shark stunt in 2014, a web series in 2015 and then building an aquarium in one of its vehicles in 2016 (and putting a series of videos on how the did it online) — is not returning as a sponsor this year.