Food Network Canada leans into out of home
The specialty network's mass reach strategy will incorporate more outdoor advertising as it markets the network as a whole rather than individual shows.
Corus Entertainment has launched a new promotional campaign to draw more viewers to Food Network Canada during its September month-long free preview, and it's leaning heavily into outdoor advertising to attract Toronto's professional and commuter crowd.
The campaign, titled "Nothing Thrills Like Food Network," features creative similar to movie posters, framing foods like sushi and hot peppers as the star of their own harrowing drama (or steamy romance). They also feature comical "reviews" such as "'Spicy characters' — Brock Lee, Washington Toast" on a poster depicting hot peppers. The OOH component of the campaign, which launched Aug. 28 and runs until Sept. 17, is focused on downtown Toronto and includes TTC vehicle and shelter advertising, as well as Go Transit stop advertising.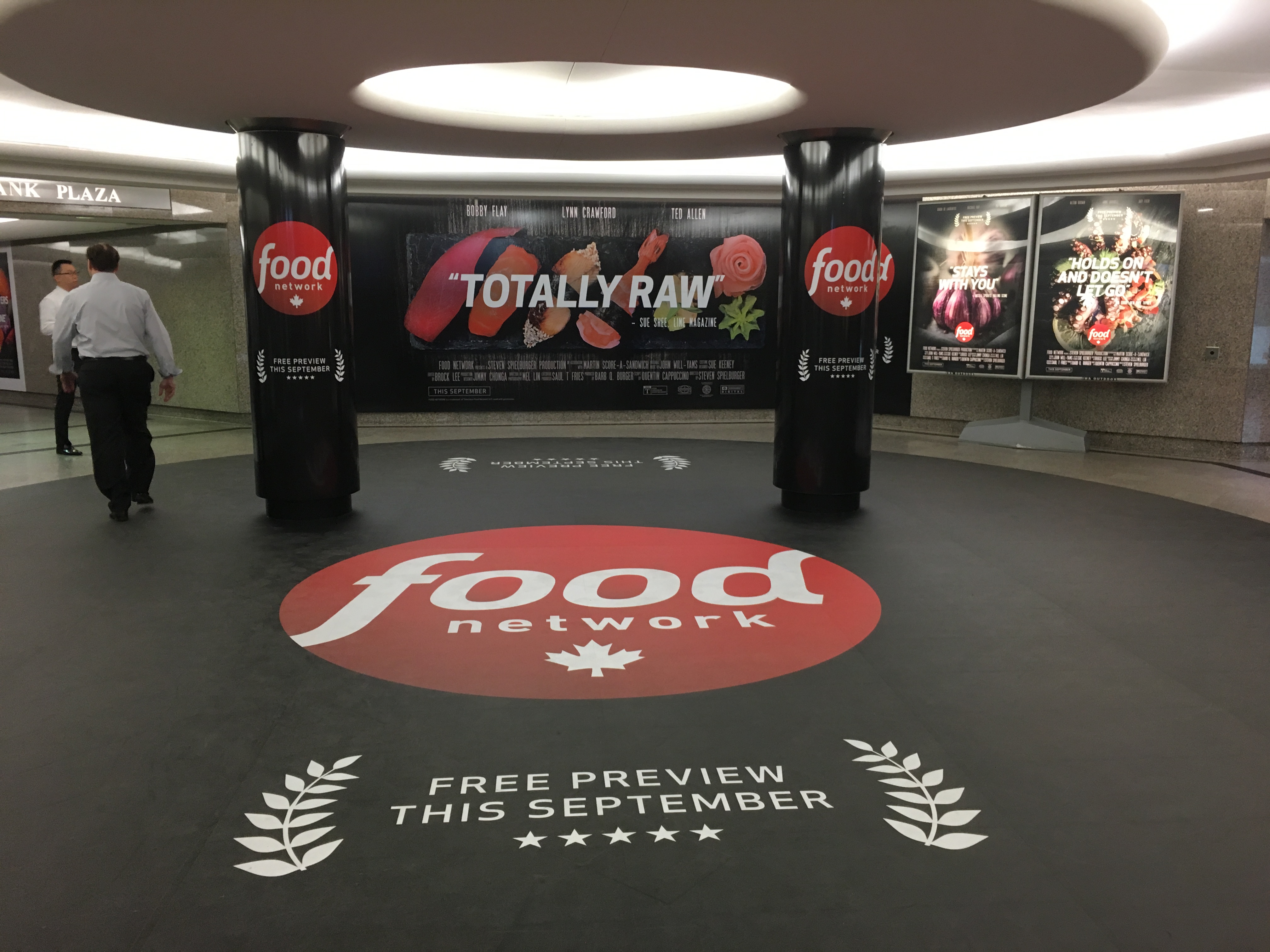 The main attraction of the OOH is a domination of Brookfield Place, which features all of the cinematic posters throughout, as well as full pillar wrappers. Shelley Findlay, VP of marketing for lifestyle content, told MiC the Brookfield Place activation was crucial in capturing a wide range of adults age 25 to 54, which is Food Network's main demographic.
"It's one of the busiest commuter areas," she said. "With it being the start of a new season, lots of new people are moving in and out of the city for work and play."
On top of the OOH, supporting promos have been airing on Corus' TV, radio and digital properties since mid-August.
Findlay said that while all of Corus' promotional campaigns tend to be multi-platform in nature, the reason this campaign featured significantly more spend on OOH was to complement a new approach with Corus — promoting the network as a whole rather than promoting individual shows.
"Usually for campaigns like this we might run more radio ads or digital for individual show spots," she said. "This is focused a lot on overall awareness." While the more general food themes and imagery are present in the creative, names of some of Food Network's most well-known talent — such as Bobby Flay and Lynn Crawford — to draw attention to the specialty network's fall schedule.
Findlay said the network is forging ahead with a strategy of targeting adults 25 to 54 and aiming for plenty of co-viewing opportunities with its programming. She said the Food Network schedule as a whole focuses on food as entertainment, rather than an instructional or how-to style. New series this season include baking-centered The Baker Sisters, premiering later in the season (date still TBD) and I Hart Food, starring YouTube influencer Hannah Hart (which premiered Sept. 1).