Taco Bell targets Gen Z with unconventional influencers
For the first time, Taco Bell is pairing with everyday social media users and not putting media spend behind their social posts — until the big reveal.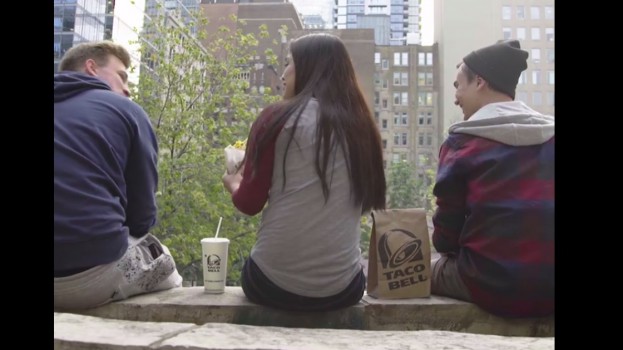 When pairing with influencers, most brands would traditionally aim for social stars with follower counts in the five figures or higher. But Taco Bell Canada's newest campaign had the QSR pair with social media users who aren't necessarily considered "influencers" for the first time. The newest voices of Taco Bell only boast between 154 and 906 Instagram followers.
Taco Bell sought out the social media users (Laurice Junio, Kyle McDonald and Andrew Sekine) through an online contest and created short social videos with each of them pulling off impressive stunts — Junio popping an extended wheelie on a dirtbike, McDonald executing an impressive basketball dunk and Sekine landing a risky parkour move. The stunts were stealthily pulled off by stunt doubles, as part of a promotion for Taco Bell's new Triple Double Crunchwrap. They were posted to each of the fans' Instagram and Facebook accounts on Sept. 13 and 14.
But Veronica Castillo, head of marketing and R&D for Taco Bell Canada, said there's no brand messaging — or media spend — behind those videos. The videos were only posted on each of the users' social pages, with the only indication of Taco Bell's involvement being the occasional Taco Bell take-out cup or bag in the corner of the shot. With no ad dollars behind the social videos, Castillo said it was a first for Taco Bell.
"Our strategy for the last couple years has been all about our fans, but this is the first time we actually posted our content to our fans' social pages and not on our own," she said.
The most organic views went to Junio's stunt, which saw 2,790 views, 41 comments and 746 reactions.
The second phase of the campaign, which kicked off Sept. 19, is where the media spend came in — Taco Bell promoted a behind-the-scenes video featuring the would-be influencers and their stunt doubles, on its Facebook page, and will soon roll out a version of the video for pre-roll and TV in early October. Media buying on the campaign was handled by Mediacom, with creative by Grip and PR by Edelman. All content will run until mid-November.
The social strategy behind the campaign is part of Taco Bell's current plan to shift its marketing efforts to the younger end of its demographic spectrum, said Castillo.
"We've always been about millennials and Gen Z," Castillo told MiC. "Millennials are getting older now, their priorities are changing, and we want to make sure we're filling out that Gen Z audience too."
While Castillo wouldn't share exact sales figures, she said the percentage of growth in Canada has been in the double digits for the past five years, and that the chain is most popular with the 18 to 34 demo.