Facebook tests moving Posts out of news feeds
The social giant responds to reports of a six-country test that has publishers worried about reduced organic reach.
Facebook is testing a new way to present content from Pages – often used by brands and media owners – by moving them out of users' main news feeds. The social media giant is now trying to assure its media partners that the test does not foreshadow any major change just yet and allay their fears of diminished reach and consumer interaction.
In six countries, Facebook is testing putting Pages content into its new Explorer feed – a separate channel for content not expressly selected by a user. So while posts from friends and family populate the news feed, publisher- and brand-owned pages are hived off.
Facebook issued a statement saying "to understand if people like these two different spaces, we will test a few things, such as how people engage with videos and other types of posts. These tests will start in Sri Lanka, Bolivia, Slovakia, Serbia, Guatemala, and Cambodia. We have no current plans to roll this out globally."
This method leaves paid-for sponsored posts in those nations' news feeds.
A spokesperson for Facebook Canada confirmed no such test is being conducted here and there are currently no plans to expand this test beyond those six markets. For now, content from "liked" Pages still appear as they always have.
However, the move has raised concern among media brands globally who have spent years trying to work with Facebook's changing policies to best leverage content users share on the site.
Filip Struhárik, a journalist in Slovakia, has reported that organic reach of pages in that region have dropped significantly since the test began. He said that while the largest media outlets have not seen a massive decline, the top 60 sites overall "have four times fewer interactions (likes, comments, shares) since the test." His findings are posted in the chart below.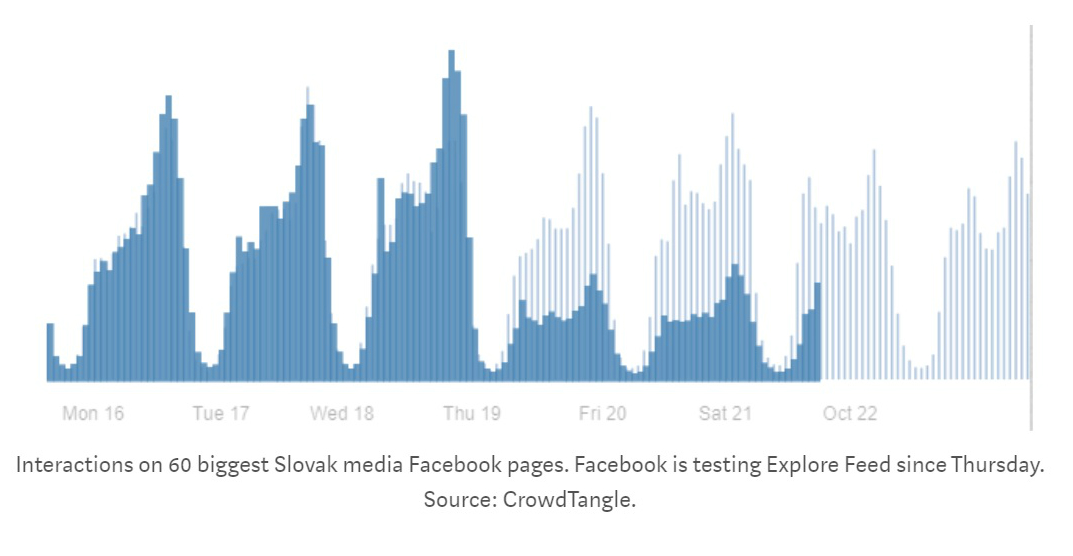 Adam Javurek, a journalist at Czech Radio, reports similar findings there.
On Monday, in response to reports of the test and fears it may herald a new product or policy, Adam Mosseri, Facebook's head of news feed, re-affirmed in a blog post that there are no plans to test this practice further.
"The goal of this test is to understand if people prefer to have separate places for personal and public content," he said. "We will hear what people say about the experience to understand if it's an idea worth pursuing any further… It's also important to know this test in these six countries is different than the version of Explore that has rolled out to most people. Outside of the above countries, Explore is a complementary feed of popular articles, videos, and photos automatically customized for each person based on content that might be interesting to them."