Jameson brings its live music efforts to Facebook
While music is familiar territory for the whiskey brand, it's giving live streaming a try to increase engagement within the 25-to-34 demographic.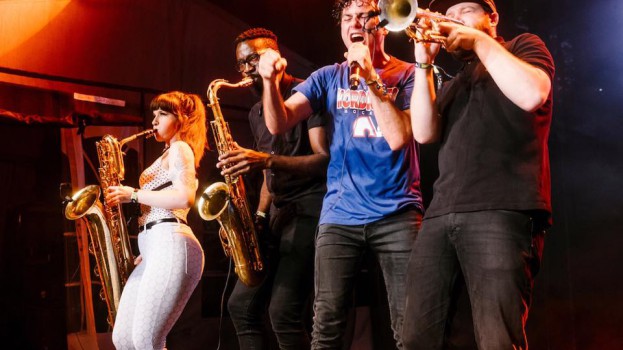 Jameson Irish Whiskey recently joined forces with Canadian rock band Arkells to increase its reach among its target audience.
The whiskey brand sponsored a live recording with the band on Oct. 24 that fans could watch online. During the 20-minute event, the band recorded version of its singles "Knockin' at the Door" and "Making Due" straight to vinyl. Following the recording, frontman Max Kerman answered questions from the Facebook audience about the recording process and the band's history.
Bottles and boxes of Jameson's whiskey were visible throughout the video, along with a large logo on one of the studio walls.
Maria Sweeney, senior brand manager for Jameson, told MiC that music itself isn't unfamiliar territory for Jameson. "We've been working with a lot of up-and-coming and local indie musicians, mostly around live music experiences, but always in settings like bars or smaller concert halls," she said. "We don't do the large stadium settings."
But, Sweeney said, one of the brand's objectives for the year was to amplify its reach beyond its core demographic of urban male consumers 25 to 34. So, the brand traded in the bar show for a Facebook Live recording session.
The recording, which received more than 70,000 views in the first 24 hours, was promoted through targeted digital advertising prior to the broadcast.
An awareness campaign planned and executed by Media Experts will extend for another four weeks. Digital and OOH ads will target the urban millennial crowd.
Sweeney said within the Irish whiskey category, Jameson currently has an 80% market share in Canada, however the brand prefers to position itself outside the Irish market (as its taste, she said, is more similar to other whiskey styles). Within the North American and premium whiskey market, Jameson holds a 22% share, which she said it's looking to increase with the live streaming play.
Sweeney added that the mainstream popularity of Arkells was a major appeal for Jameson, which is used to working with more indie bands and up-and-comers. The band has risen in popularity since hitting the scene in 2009, winning Group of the Year and Rock Album of the Year at the Junos in 2015 and making the long list for the Polaris Prize in the same year. The band was brought to Jameson's attention through PR firm Hill+Knowlton Strategies.