Sick Kids takes an unconventional OOH approach
While last year's campaign went mass in Yonge-Dundas Square, this year's iteration will target specific Toronto neighbourhoods to get residents reaching for their pocketbooks.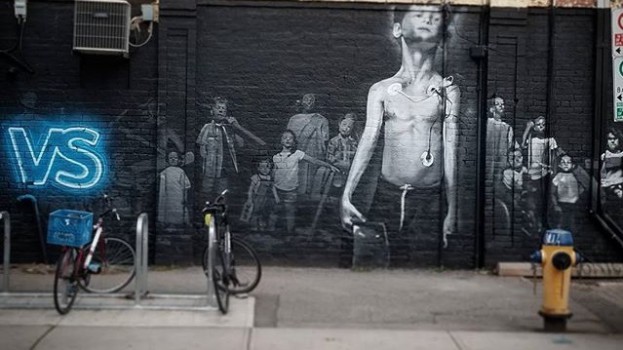 The out-of-home aspect of Sick Kids Foundation's renewed "VS" campaign will focus on hyper-local work instead of big light-up signs and one-night stunts.
Last year, to amplify the message of its powerful "VS" campaign, the Sick Kids Foundation staged a one-night takeover of Toronto's Yonge-Dundas Square.
This year's campaign (which re-launched with a new creative last week) will target Toronto neighbourhoods with outdoor ads, murals and messages rallying the areas to support the foundation supporting the city's SickKids hospital.
In Toronto, 75 different outdoor walls will be adorned with SickKids' message. Some will contain the photographic creative, while 15 will contain murals that mix art, stencils and projections.
The outdoor ads will appear in neighbourhoods such as Queen West, Parkdale, Leslieville, Bloor and Mount Pleasant, Lori Davison, VP of brand, strategy and communications at the Sick Kids Foundation, told MiC.
"The message will highlight the context of the neighbourhood they're in," she said. "You'll see 'Queen West vs. Limits,' 'Parkdale vs. Limits.'"
The goal is to raise $1.3 billion toward the building of a new hospital on the current Toronto site.
But rather than a traditional OOH media buy, Davison said the wall spaces were donated by a mix of private citizens from SickKids' donor community as well as corporations like Rogers (which will host a mural on its Bloor and Mount Pleasant campus).
"Last year was definitely more of a traditional approach," said Davison, who added that although the foundation engaged in a more traditional media buy, the media was heavily discounted.
Davison said media buying agency OMD Canada and creative agency Cossette worked hand-in-hand on the neighbourhood targeting strategy, which gave the campaign a more personal touch.
Murals have already started to appear throughout the city (the Queen West mural, pictured, is still in progress), but Nov. 13 is the official launch date of the new campaign, which also includes digital advertising.
Davison noted that the Twitter element of last year's campaign was successful enough to prompt a reinvestment in  the social platform for video and boosted social. "What we've seen in terms of engagement in the last 48 hours has already surpassed last year," said Davison.
The murals will stay up for six weeks.