Le Devoir pursues La Presse's print fans
Capitalizing on the shuttering of La Presse's Saturday edition, an ad campaign and new print magazine vie for subscriptions.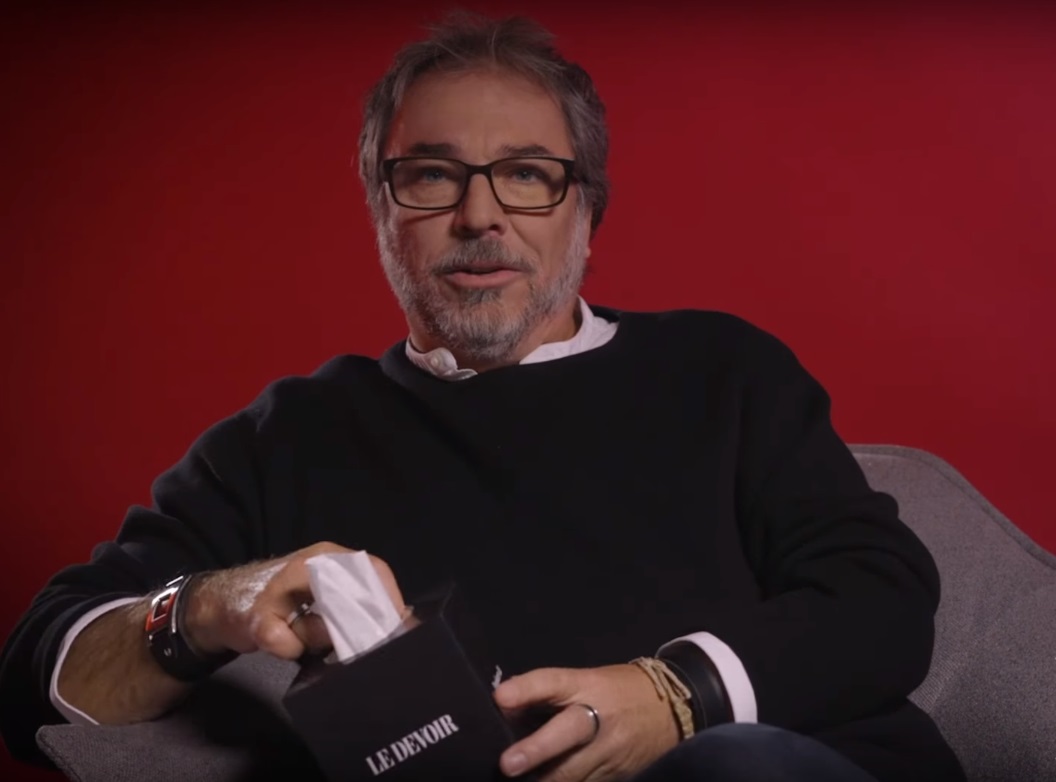 Le Devoir wants you to know it's there for you if you ever want to talk. It has launched a campaign that makes a play for its competitor's Montreal audience as La Presse shifts fully out of print.
A new digital ad campaign launched by the independently owned Le Devoir features Quebec actor Christian Bégin as a therapist, coaching La Presse readers through the various stages of grief as they prepare to say good-bye to La Presse's Saturday print issue at the end of this year.
The cancellation of the Saturday issue will complete La Presse's full transition to digital, a plan it set out on several years ago. While La Presse maintains that the digital transition has been successful so far with readers and advertisers, Le Devoir is also hoping that it will mean success for them among print fans.
As such, the message of the ad is that Le Devoir will always be there for the reader. Bégin even offers some tissues to the audience at the end of the subscription drive ad.
The ads went live this week, and will continue until the beginning of 2018. They will be pushed on social through Le Devoir's properties, as well as Telequebec's, with additional ads through Radio Canada's digital properties.
Mark Drouin, VP of sales and advertising for Le Devoir, admitted the ad strays from the typical imagery associated with Le Devoir, which he said is highly educated but can sometimes be seen as elitist. "Le Devoir is re-positioning itself with the departure of La Presse," he told MiC, adding that the intent is not to attack the rival paper.
Subscriptions are key to Le Devoir's future, Drouin said. Although Le Devoir does advertise, Drouin said the goal of the paper has been to not rely too much on advertising. "We know what has happened elsewhere," he said, referring to papers that have had to severely cut back when print ad spend decreased and digital ad spent was gobbled up by Google and Facebook. National Post recently discontinued its Monday print edition indefinitely, and Torstar laid off 52 staffers in 2016.
Drouin said readership has gone up for Le Devoir slightly over the years, a claim supported by Vividata's rankings. He said print readership has risen between 1% and 2% every year, and digital subscriptions have surpassed paper subscriptions (its website boasts 1.3 million monthly unique visitors and 7 million page views per month).
A new print product
Still, he said, the paper isn't taking that strength for granted. Besides the campaign drive for subscriptions, Le Devoir is introducing a new print product on Saturdays. Dubbed Le D magazine, the new tabloid-format product (Drouin said it's officially being billed as a magazine) will be inserted into every Saturday edition of the paper. Le D has repurposed content from several sections that formerly appeared in Le Devoir's Saturday edition (books, culture and lifestyle).
"We did this to be interesting and attract La Presse readers," said Drouin. "We knew that we had to jazz up part of our Saturday offering. By calling it a magazine, we can show that we've added something different to the marketplace."
The new campaign's media buy was executed internally, with creative work by Écorce.