Fab Stanghieri takes over at Cineplex Digital Media
President Nick Prigioniero, who helped build Cineplex's international signage business, has announced his retirement.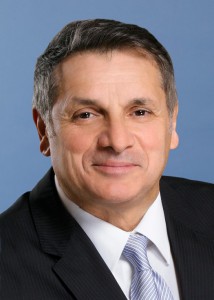 There is new leadership at the head of Cineplex's digital signage unit as Nick Prigioniero (top right) has announced his retirement.
Prigioniero joined the company in 2013 when his digital signage and solutions firm EK3 Technologies was acquired by Cineplex for $39.1 million. Cineplex merged EK3 with its own digital solutions team and Prigioniero took on the role of president with the newly formed Cineplex Digital Media (CDM).
EK3 expanded Cineplex's display network in Canada and U.S. significantly with digital boards and menu displays. It also brought in clients with global operations such as McDonalds, Walmart and Target.
Fab Stanghieri (bottom right) will now lead CDM as EVP and general manager. Most recently SVP of business development, account services and marketing, Stanghieri has been with the company since the early 2000s, serving in its real estate operations as well as on CDM's leadership team.
"CDM has taken up more and more of my time because I see such a long, exciting runway," Stanghieri told MiC. "Being on the business development side during the acquisition (of EK3), I jumped into the business. We had a strong media division, and, to quote Wayne Gretzky, I wanted to go where the puck was going to be."
While CDM operates in Europe and the Middle East, Stanghieri says most of its growth will likely come from the U.S. for the foreseeable future.