Spotted! No Frills (and no pants either)
The Loblaw-owned discount brand stripped down to its skivvies for a frigid subway ride.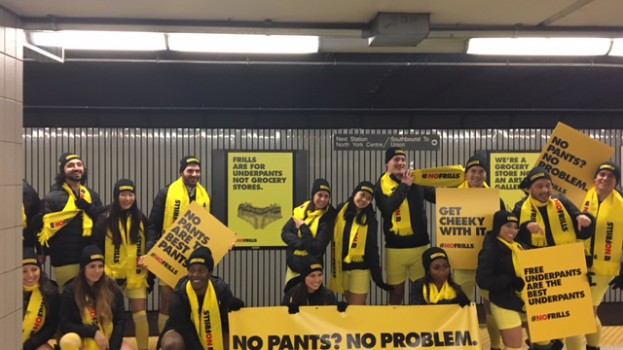 For the last 17 years, Toronto's literally named "No Pants Society" has organized an annual "No Pants Subway Ride" on the TTC. Taking place on the frigid day of Jan. 7, Toronto's ride coincided with more than 50 other cities around the world (some presumably warmer than others) on the same day. The event, if it's not obvious from the title, invites people of all stripes to ride the rails in in their skivvies.
This year, No Frills got in on the action.
A group of brand ambassadors from the Loblaw-owned discount retailer took part in the ride, wearing branded underpants, hats and scarves in No Frills' trademark yellow.
It was a first for No Frills, but one that fits perfectly with its brand messaging, noted Mary MacIsaac, VP of marketing for Loblaw's discount division. She said pop culture events like the No Pants Subway Rideare about more than just engaging with customers outside of stores, "it's an opportunity to be recognized as the street-wise and relevant brand that we are."
The goal was to appear "uncompromisingly confident," she said, as well as to add some "swagger and whimsy."
No Frills embarked on a major out-of-home and digital campaign earlier this year to drive home its message of being distinctly free of (what else?) "frills" (such as delis and bakeries) that drive up grocery costs. Previously, No Frills had mostly stuck to flyer advertising, but as the popularity of discount grocers rises, No Frills has sought to distinguish itself through playful ads.
Specifically, one piece of No Frills' current creative reads, "Frills are for underpants, not a grocery bill," which provided the inspiration for its Jan. 7 stunt.
Other recent examples of its sassy new advertising include a 12-hour Facebook live broadcast of a turkey thawing on Dec. 21, and a mobile truck art installation at the 2017 Toronto Nuit Blanche (a yellow sign that simply read "Art").
No Frills' pants-less parade was promoted heavily on Facebook, Twitter and Instagram in the week leading up to the ride, as well as a full-page ad in metro and a mobile truck at various locations around the city (with all media buys conducted through Dentsu). Brand ambassadors also were in attendance at the Jan. 5 concert  of The Killers, where they handed out more than 3,000 pairs of No Frills-branded underpants. No Frills also purchased OOH ads in select subway stations that had nearby store locations, with ads going live on the day of the ride.