Ford delves into AR with a Snapchat tour
The campaign, featuring Ford's EcoSport, is running in Canada for users of the Snapchat AR Lens.
Ford Canada launched its first Snapchat AR experience in the country on Monday.
The campaign, which runs Canada-wide on Snapchat, allows consumers to engage with Ford's EcoSport as though it is right in front of them. Users who open their Snapchat camera and select the outward-facing ("world") camera can select the Ford-themed "World Lens" and have the car pop up before them.
Snapchat worked with Mindshare and GTB for the campaign.
It's a first for both Snapchat and Ford; since Snapchat first monetized its World Lenses last year, this is the first time the company has included the interior view of a car for an auto advertiser. For Ford, this is the brand's first experience with Snapchat AR.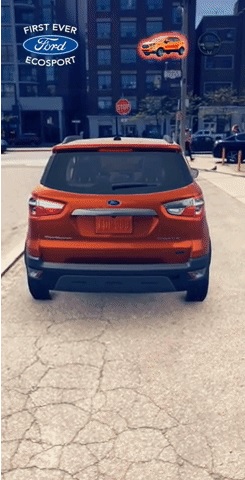 According to the messaging app, 70 million people use Lenses in the Snapchat camera each day.