Wild On Media moves in on taxis
The OOH company has rolled out taxi tops that provide flexibility and geo-targeting to advertisers in Toronto.
Wild On Media has rolled out a series of static and digital taxi top billboards in Toronto, nabbing Moosehead Breweries and Z103 as its first clients.
The out-of-home company partnered with Toronto-based taxi service Flash Taxi to bring 15 digital and 100 static taxi toppers to the streets of Toronto.
The dual-sided tops will be accompanied by taxi wraps and in-taxi ads in the future, according to the company's president George Christidis.
Moosehead Breweries will target downtown Toronto from June to October with static taxi top ads promoting the package redesign of its Lager, Pale Ale and Radler beverages – part of a larger OOH campaign designed by Moosehead's media agency, Media Experts. Meanwhile, central Ontario and Greater Toronto Area radio station Z103 is employing Wild On Media's digital tops (with media done in-house).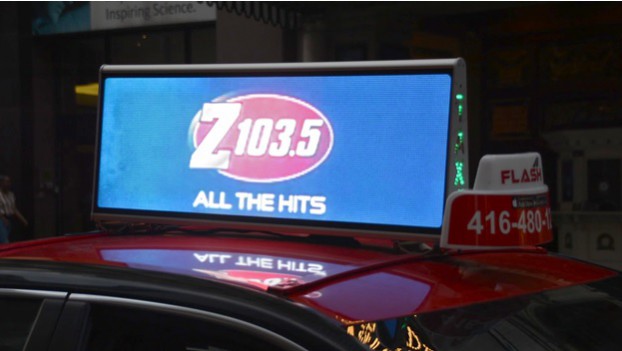 According to Christidis, the digital tops are more flexible than traditional static tops, which can take weeks to print and often require a four-week campaign minimum due to the cost and time to create. Digital, however, can be changed on the fly and provide more options for advertisers.
"On the digital taxi tops, we [can] create a one-minute loop of seven-and-a-half seconds [for] each [brand]," Christidis told MiC. "It makes it more affordable for companies with [tighter] budgets to go in and share with seven other advertisers in a one minute loop."
The digital ads are also GPS and internet-enabled for geo-targeting based on the brand's preferred time and area of the city.
Wild On Media's M.O. has been to create non-traditional OOH media for brands, with the company offering ads on trucks, wall projections, walking billboards and most recently entering another unique ad space with the launch of its sailboat ads.
The taxi tops, officially announced on July 10, were soft-launched earlier this year.