TheScore's revenue and iOS app users increase
The company saw a rise in monthly users, while its EBITDA loss was only $44,000, compared to $2.2 million for the same period last year.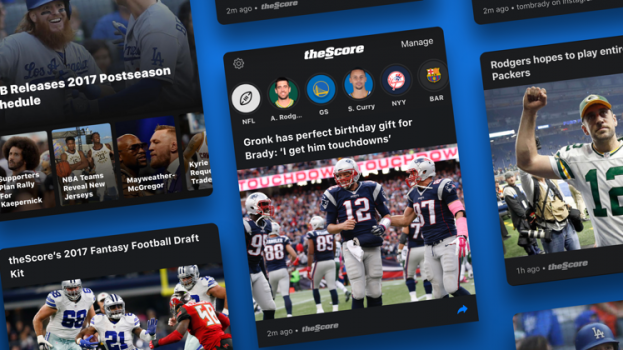 Canadian mobile media company theScore saw its revenue grow 12.5% year-over-year in Q3, coming to $7.2 million.
While the company didn't have a positive quarter, its EBITDA loss for the period was only $44,000, compared to $2.2 million for the same period in 2017. Most of theScore's revenue comes from advertising sales, which are a mix of programmatic and direct.
Average monthly users for the quarter was 3.9 million. Monthly app sessions per user were down slightly, at 93 per month (versus 96 in Q3 2017).
John Levy, CEO and founder of theScore said in a call to investors that it was an "exciting period" for the sports-centered media company.
The biggest growth for theScore's app was in iOS, where it saw an almost 10% rise in its average active monthly users on iPhone and iPad. However, Android usage continues to be a challenge for theScore, with lower usage on the operating system for the last three quarters. However, last week, the company announced that it was partnering with Samsung voice platform Bixby to increase its presence on Android devices. Bixby is currently available in Canada, but theScore's offering has only been extended to the U.S. for the time being.
Levy said theScore can expect another boost this coming quarter from the legalization of sports betting in the U.S. While the roll-out will be gradual and each state's model will be different, he said theScore is "uniquely positioned to capitalize on this opportunity." Most of theScore's ad sales in the U.S. are transacted programmatically.