Postmedia redesigns its community sites
The new look was created to provide more mobile-friendliness, targeting both readers and advertisers.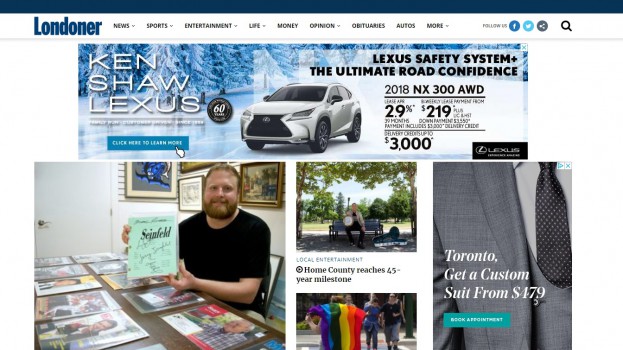 Postmedia has redesigned the websites for all 92 of its community newspapers. A dozen of the websites have been relaunched with their new branding, while the remaining 80 will roll out over the summer.
The redesign, according to Postmedia, focused on mobile-friendliness, quicker response times, more support for video content and a better overall user experience.
Each individual website is being updated so that the homepage format is similar across the Postmedia network, however each newspaper's branding will remain the same.
Josh Merchant, SVP of product and development at Postmedia, told MiC the biggest benefit for advertisers will be in terms of viewability. It will also allow the company to test new media formats, he said. While Postmedia has not yet rolled out any new advertising formats related to the redesign, he said they will look at how audiences react to the new online entities and go from there.
"We'll look at advertising in terms of rich media ads, and focusing more on native advertising," he said. "The real estate on your mobile is obviously a lot less, so we'll do more to improve the ad experience there."
Postmedia recently rolled out an integration with YouTube for video through a partnership with Google. Merchant said this was to allow its community sites to deliver a more "streamlined" approach to video. "The previous technology had some limitations to supporting the video format, so we have a more robust video experience now," he said.
Postmedia has also stated that the redesigned sites will feature content from across the Postmedia network. However, Merchant told MiC the community sites will "obviously be local-first." As other content is generated, he said, "we may find different content that's potentially attractive to new audiences based on what they engage with," but he doesn't expect the balance of local to national stories to change significantly.