Ontario Racing adds 360-degree video to online ads
A VR-compatible content aims to immerse race fans in the game and get them to visit the track.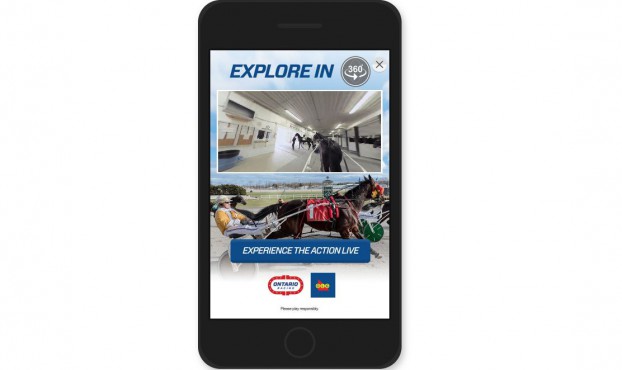 Ontario Racing is putting online audiences right on the racetrack with a new campaign using 360-degree video ad units.
The VR-compatible content is Ontario Racing's first foray into 360-degree video. It shows a jockey's first-person perspective of a harness race.
The video is embedded in a number of ads currently running on Oath-owned mobile and desktop properties (HuffPost, AOL and MSN sites, among others). Viewers can manipulate the camera within the ad using their mouse and navigate to a larger version of the work, which can be downloaded to a VR-ready device.
The ad formats include portrait units, and both expandable and static mobile interstitials.
Adriana Spatzner, the director of product development and marketing for horse racing at OLG (which regulates gaming in the province and sponsors Ontario Racing), told MiC the organization liked the idea of trying 360-degree video when it was pitched by its media agency, PHD. Budget for the work is "part of the digital/online marketing plan, which aligns to the audience of 'entertainment seekers' we are trying to reach," she said.
According to Michael Bolt, VP of client services at PHD, the goal is to create an immersive experience that engages "new and lapsed" race fans.
"We're trying to amplify the track experience and bring people closer to the race itself," as opposed to broadcasting a more promotional message, Bolt said. "It helps us stand out a bit more."
The video required a dedicated film shoot and does not rely on any existing creative from Ontario Racing's current "More Than The Race" campaign. Compared to Ontario Racing's brand-sell ads, the 360 video caries more of a documentary feel.
Production for the work was conducted by the Oath-owned studio Ryot (which has become known for its 360 video work since it partnered with HuffPost in 2016 to produce news content within the format.)
The campaign is set to run until November.