Spotted! HSBC Canada rolls out a giant welcome mat
The financial institute upped its airport branding strategy at Toronto by placing a welcome mat that can be seen from the air.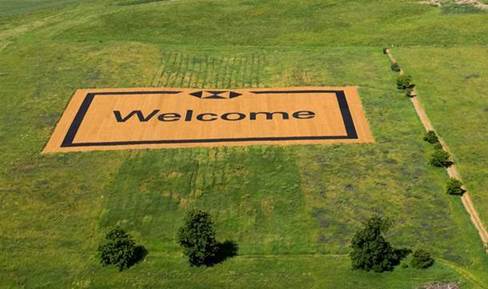 Travelers arriving at Toronto Pearson International Airport last week were greeted by an oversized welcome mat. It was spread out on the lush green grass alongside the jet landing strip and took up the size of two football fields (85,000 square feet).
The friendly neighbour behind the mat? HSBC Canada. The bank is expanding on its long-running airport branding strategy, and Cindy Wong, regional head of RBWM marketing at HSBC Canada told MiC that other branding activities include placing its logo on jet bridges and OOH installations inside airport terminals.
However, after years in the space, she said its strategic goal with the mat was to go "bigger and bolder." The marketing team wanted to tap into the "sweet and warm feeling" of returning home from a business trip, or moving to the country.
Wong acknowledged that it is not as common for brands in the financial sector to have such unconventional advertising campaigns, but said HSBC wanted to use the opportunity to "create a distinctive voice."
HSBC has been known for buying spaces in and around airports across the world since 2001, including in Toronto, Vancouver, Montreal and Calgary. Wong added that although HSBC advertises in other airports, the bank has a much larger airport presence in Canada. "That shows you how integral Canada is in the bank's overall global strategy," said Wong.
The brand worked with Mindshare on media and J. Walter Thompson on creative. The campaign includes a fully integrated marketing strategy on social and traditional media, including TV (ads are running on CP24, for example) and a full-page advertorial in StarMetro.
Changes in Canada's immigration policies have seen an average of 300,000 newcomers arrive every year. According to Pearson, more than 1,100 flights take off and land per day. Its most recent statistics showed that the airport saw 1.4 million international travelers for the month of April.