Groupe V taps into custom content to promote Rousseau
The Quebec media company promoted the second season of its program Le Show de Rousseau by tapping into the Quebec election.
Quebec media company Groupe V tapped into a custom content strategy while marketing the second season of comedy program Le Show de Rousseau.
According to Sarah Nguyen, marketing director at Groupe V Media, the strategy behind the "Je choisis Stéphane" campaign was to "persuade and seduce" viewers into choosing to watch Le Show de Rousseau, while also tapping into the timing of the show's return with the upcoming Quebec election.
Working with Toast Studios as well as the producer of Le show de Rousseau, Groupe Fair Play, the campaign drew upon traditional electoral campaign tactics by offering viewers an alternate candidate in Rousseau.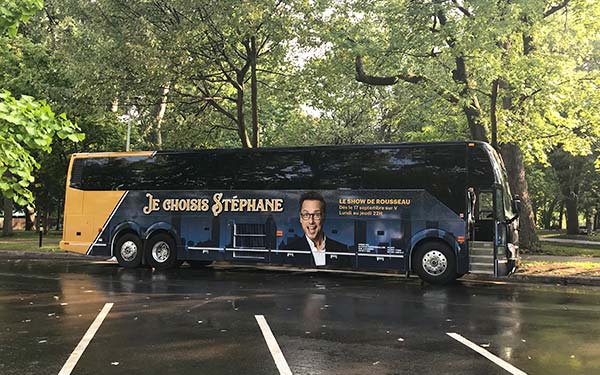 Unlike the traditional approach of building a campaign from show excerpts, Nguyen explained that the campaign required the creation of custom content demonstrating the show's tone and content.
Kicked off with a tour bus travelling around the province, the mock electoral campaign also featured videos broadcast on Noovo.ca, and Groupe V's social media platforms. It also included a promotional spot on TV, and the company shared images of mock campaign ads through various social media platforms.
The program airs Monday to Thursday nights at 10 p.m., with a target audience of French-speaking adults between age 18 and 49 (with a sweet spot in the 18 to 34 bracket) who reside in Quebec. Its episodes are positioned against nightly news programs from competing Quebec networks TVA and SRC.
Earlier this month, Groupe V repositioned its channel V with a new logo and branding.