2018 Brand of the Year: Ricardo's recipe for success
How Ricardo Larrivée is expanding his media empire through digital platforms and smart retail.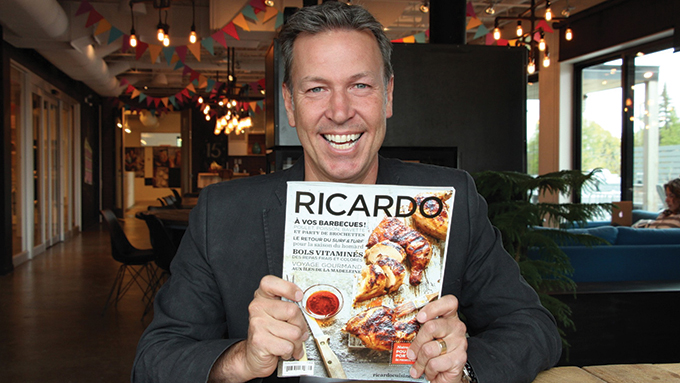 Ricardo the man holds a copy of Ricardo the magazine. 
This story originally appeared in the October 2018 issue of strategy.
In a year that's seen print publications move to digital and cut costs in an effort to keep their heads above water, it may come as a surprise that Ricardo Media, the publisher behind Ricardo magazine, isn't just surviving, it's thriving.
Chef Ricardo Larrivée arrived on the scene when he starred in his first television show (titled Ricardo) in 2002 on Radio-Canada. That same year, he introduced Ricardo the magazine, and before long, Ricardo Media was born. He's since published six cookbooks on topics ranging from decadent desserts to the art of slow cooking, established a line of merchandise and is currently expanding retail locations. Larrivée and his wife, Brigitte Coutu, remain the owners of the Ricardo Media, a growing indie empire.
As of January, Ricardo magazine had an average of 1.22 million readers per print issue, according to Vividata. When factoring in digital, its footprint expands to 1.78 million per issue. Its competition includes Coup de pouce with 1.35 million readers, the French-language version of Chatelaine, which has a total footprint of 873,000 readers per issue, Vivre mieux with 995,000 readers, and 5 ingredients, 15 minutes at 441,000 readers.
Besides having the bragging rights of owning a media company that boasts more readers than its conglomerate-owned competition, Larrivée himself is beloved in the Canadian food scene, particularly among Quebecers. In 2014, Larrivée was named to the Order of Canada, and for years he's appeared on various Quebec networks to provide his perspective not only on food, but also on revitalizing the country's school systems and keeping one's marriage fresh.
In recent years, Larrivée has focused on diversifying revenue for the media business. But he assures strategy that this isn't a post-recession effort to recover costs as ad sales plummet – it has always been a part of the game.
"[People] know what they want, and they will buy magazines as fits their needs. At the same time, even in the beginning, my wife and I always knew we would not put all of our eggs in one basket."
But back when it launched, eggs in multiple baskets meant standard celebrity chef fare – cookbooks, TV shows, hosting gigs and a digital recipe hub. Today, Ricardo Media is less about Ricardo the man and more about Ricardo the brand, encapsulated by its "Eat Together" positioning.
Unlike many legacy media companies, which recoup costs through custom content or from sponsor-driven events Ricardo has opted for tangible, in-person experiences.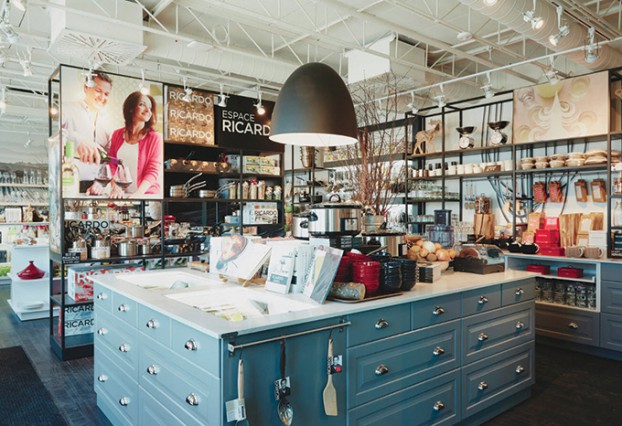 For example, it has a bricks-and-mortar strategy  with Espace Ricardo (pictured above), which first opened in the Montreal suburb of Saint-Lambert in 2014, carrying food products featured in Ricardo's print and TV content, as well as the company's proprietary kitchen accessory line (first launched in 2011 and selling more than two million items to date). Two years later, it opened Café Ricardo in Montreal, a sit-down eatery featuring menu items made from recipes inside the magazine (as well as retail items for sale). In 2017, it opened a second Montreal eatery.
Later this year, Ricardo will open its first eatery location in Quebec City as part of a massive new food hall project by Oxford Properties in the Galeries de la Capitale mall. The new 9,000 square-foot location will be the largest yet for Ricardo (seating a total of 140 people between the indoor space and the patio) and will be the first with an express counter. The overall retail expansion represents an investment of nearly $2 million and will employ 60 people. There are also plans to open a café in Ottawa next year.
Ricardo worked with Aurora Consultants on its bricks-and-mortar expansion strategy, and invested heavily in tracking the habits and motivations of its customers. The data included where people were coming from (with its first two locations, the company noticed a high number of its customers were from out of town, prompting greater geographic expansion) and how much time they spent in different areas of the space.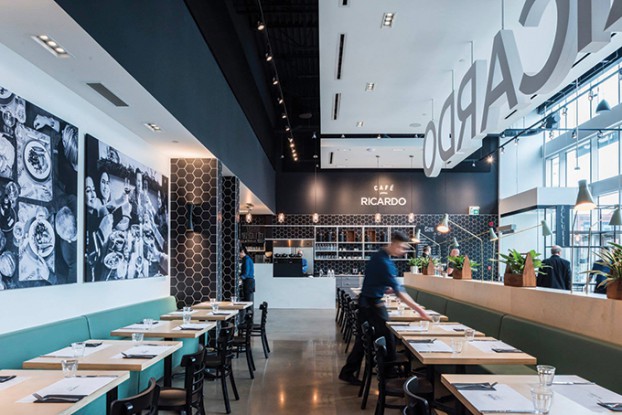 The cafés (pictured above) and restaurants are meant to feel luxurious, yet welcoming, and feeds into its "Eat Together" brand messaging, which also informs its content, adds Larrivée.
To get to its current "Eat Together" positioning, the company commissioned a survey in 2016 through research firm Leger. Speaking to 3,000 Canadians, the study found that Ricardo's core Quebec audience consume more breakfast, drink more wine and eat more at home (instead of at restaurants) than the rest of the country. It also found that meal prep is a family affair – three-quarters of Quebec respondents said their children helped with dinner (compared to one-third of the whole country). The study also found that most (91%) of Canadians want to eat healthy, balanced meals, but only 10% felt they achieved that.
From those findings, the magazine set out to ensure it always contains family-friendly recipes that are easy to prep and have simple ingredients. While entertaining and putting on spectacular dinners is great, says Larrivée, many of the recipes focus on "pantry" meals – things that are easily assembled with ingredients people already have. "Eat Together" also positions Ricardo as a way to get people to connect with each other in real life, not just online.
While the French publication has seen some losses on the print side (according to Vividata, between the first quarter of 2017 and 2018, print readership fell by 8.4%), its digital product has been rising steadily. As much as 10% of that digital traffic comes from Europe. Larrivée says the featured recipes appeal to more European culinary sensibilities – a strong emphasis on colour and aesthetic and plenty of fresh vegetables and herbs (a trend that Larrivée believes helps solidify Ricardo as a distinctly Canadian media company).
He says as a primarily Quebec-based publication, Ricardo doesn't face quite the same squeeze as other Canadian publications. "The language barrier, in a way, protects Quebec from American competition," he says. Nevertheless, it's not immune to the effects of changing consumer behaviour, which is why it's focusing on ensuring it has a better multi-platform strategy, while making its web content more mobile-friendly, short-form and social media-friendly.
"Distribution remains a big problem in the magazine industry," he says. "Grocery store space for magazines is diminishing – they make more money on a pack of gum than on a magazine at the checkout. Even Indigo is reducing the number of magazines. I can't do anything about that pack of gum being more profitable, but I have to ask, how can I get our content into readers' hands?"
The magazine's indulgent-yet-practical culinary aesthetic will continue to complement the current "Eat Together" positioning, but refining the magazine for a more "consultative" approach is key to its on-going evolution.
"We want to take a position of, 'How can I help you? How can I answer you?'" he says.
Larrivée adds that he's looking to boost the company's Toronto sales team and expand the footprint of the English magazine. And he's not ruling out the possibility of more editions.
Being open to new possibilities, whether they may in print, retail or digital, has helped Ricardo the man and Ricardo the brand not only survive, but continue to thrive in a tough media climate filled with celebrity chef competition.