Facebook gives a major update to Messenger design
The app is now streamlined into three main sections.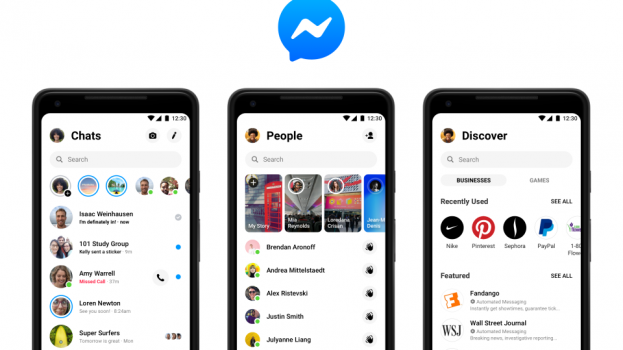 Facebook has updated the design of its Messenger product, reducing its layout to three sections and bringing brands into a central "Discover" page.
The three sections, "Chats," "People" and "Discover," are part of a bid by Facebook to "simplify" the app and create more focus.
The home "Chats" page hosts active chats, while also featuring a connection to the Facebook camera interface at the top to send instant photo chats. Users' public Stories will also be posted here. The "People" tab lists the user's contacts, while "Discover" will provide users with a central place to discover and chat with brands (or their automated chatbots), as well as play new games that are developed for the platform. Although brands will have a place on the Discover platform, ads such as promoted chats will still appear on the Chats page.
According to Facebook, 71% of users surveyed said simplicity is a priority when using the app.
Earlier this year, competing messenger app Snapchat rolled out a controversial redesign that prompted criticism from users and the ad industry alike. Specifically, the app's lack of simplicity and clarity was a major target. CEO Evan Spiegal has since admitted that the company "rushed" the redesign.
Facebook has also added a hint of personalization; users can now customize the colour and look of their chat bubbles in conversations.
According to the company, Messenger has 1.3 billion global users. The new design will be rolled out gradually. Also in the works is a "Dark Mode" feature, which is designed to cut down on phone glare.