Big Bang stays glued to #1: Numeris
This marks the CTV hit's fifth week at the top of the national charts.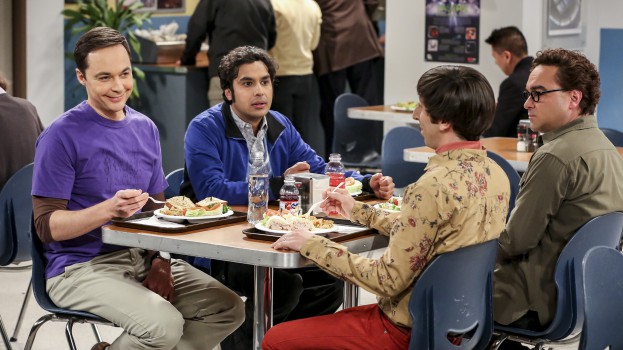 The Big Bang Theory topped the national charts yet again, pulling in more than three million viewers for the week of Oct. 29 to Nov. 4.
According to the latest Numeris chart, this is the show's fifth consecutive week at #1. However, it was a slight decrease from last week which drew in 4.02 million viewers.
Following closely behind was regular runner up, Young Sheldon, which garnered 2.75 million viewers. Rounding out the top five were The Good Doctor at #3, New Amsterdam at #4 and FBI at #5.
Big Bang managed to top every Anglophone market in terms of AMA.
Unité 9 remained the top viewed program in the Quebec market with 1.49 million viewers, followed by Révolution,  L'échappée, L'Heure Bleue and O'.
Canada
1. The Big Bang Theory on CTV Thursday at 8 p.m.: 3.54 million viewers
2. Young Sheldon on CTV Thursday at 8:31 p.m.: 2.75 million viewers
3. The Good Doctor on CTV Monday at 10 p.m.: 2.50 million viewers
4. New Amsterdam on Global Tuesday at 10 p.m.: 2.24 million viewers
5. FBI on Global Tuesday at 9 p.m.: 2.08 million viewers
Montreal (Anglophone)
1. The Big Bang Theory on CTV Thursday at 8 p.m.: 107,000 viewers
2. The Good Doctor on CTV Monday at 10:p.m.: 104,000 viewers
3T. The Conners on CTV Tuesday at 8 p.m.: 87,000 viewers
3T. Young Sheldon on CTV Thursday at 8:31 p.m.: 87,000 viewers
5. Law and Order: SVU on CTV Tuesday at 10 p.m.: 78,000 viewers
Quebec (Francophone)
1. Unité 9 on SRC Tuesday at 8 p.m.: 1.49 million viewers
2. Révolution on TVA Sunday at 7:30 p.m.: 1.23 millions viewers
3. L'échappée on TVA Monday at 8 p.m.: 1.19 million viewers
4. L'Heure Bleue on TVA Tuesday at 9 p.m.: 1.09 million viewers
5. O' on TVA Tuesday at 8 p.m.: 1.06 million viewers
Toronto/Hamilton
1. The Big Bang Theory on CTV Thursday at 8 p.m.: 899,000 viewers
2. Young Sheldon on CTV Thursday at 8:31 p.m.: 654,000 viewers
3. FBI on Global Tuesday at 9 p.m.: 560,000 viewers
4. New Amsterdam on Global Tuesday at 10 p.m.: 502,000 viewers
5. The Good Doctor on CTV Monday at 10 p.m.: 479,000 viewers
Edmonton
1. The Big Bang Theory on CTV Thursday at 9 p.m.: 147,000 viewers
2. Oilers vs. Red Wings on Sportsnet Sunday at 5:15 p.m.: 124,000 viewers
3. Young Sheldon on CTV Thursday at 9:31 p.m.: 106,000 viewers
4. The Good Doctor on CTV Monday at 8 p.m.: 102,000 viewers
5. New Amsterdam on Global Tuesday at 8 p.m.: 98,000 viewers
Calgary
1. The Big Bang Theory on CTV Thursday at 9 p.m.: 199,000 viewers
2. The Good Doctor on CTV Monday at 8 p.m.: 154,000 viewers
3. Young Sheldon on CTV Thursday at 9:31 p.m.: 147,000 viewers
4. New Amsterdam on Global Tuesday at 8 p.m.: 138,000 viewers
5. 9-1-1 on Global Monday at 10 p.m.: 120,000 viewers
Vancouver/Victoria
1. The Big Bang Theory on CTV Thursday at 8 p.m.: 270,000 viewers
2T New Amsterdam on Global Tuesday at 10 p.m.: 226,000 viewers
2T. Young Sheldon on CTV Thursday at 8:31 p.m.: 226,000 viewers
4. Survivor on Global Wednesday at 8 p.m.: 216,000 viewers
5. Bull on Global Monday at 10 p.m.: 180,000 viewers