Corus taps Knorr for new Twitter series debut
The millennial-targeted series is aiming to engage with more than just food brands.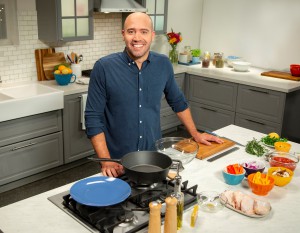 Tonight marks the premiere of Corus' first Twitter original, #OneDirtyDish.
The interactive cooking show, which runs under the Food Network Canada brand, is produced by Corus' new in-house social content studio So.da and hosted by chef Stefano Faita. The series will focus on Faita creating easy weeknight meals that only require one pot, with recipe elements voted on by the audience through Twitter polls. Following each stream, the recipes will be uploaded to Food Network's website.
Corus has tapped Knorr as the sponsor of its first two episodes, which will use the brand's bouillon products as part of the recipes. The brand will also be promoted through pre-roll, promoted tags and three pieces of extended video content.
Dervla Kelly, SVP of marketing and social digital agency at Corus, tells MiC that Twitter first approached the media company to create a series for the platform after seeing strong user engagement. "Twitter has access to all the audience data and sees how engaged they are. And through the polling, we can naturally get our audience involved. Food is one of the top-performing topics in social, so we're fortunate to have brands and content that consumers seem to naturally gravitate toward."
Alexa Keeler, social manager in Corus' lifestyle vertical, says the target audience is definitely millennials and young families. "We've seen on social, particularly on Food Network's properties, a real return to classic cooking, that daytime style of content. People are looking for weeknight meals, classic dishes. This is definitely targeted at people who are very busy, looking for ideas, cooking for families."
Kelly says that although food products such as Knorr are a "natural fit," there are opportunities for far more advertisers to integrate. "When we first announced this at the [June] Upfront, we had a whole range of interest across categories. We're in conversation with a number of other brands that are not food-related."
Knorr worked with Mindshare on the integration.
The second episode will air Nov. 29 at 9:30 p.m.