How CHUM is rebranding a popular morning radio show
CHUM 104.5's flagship show is now focusing on audience involvement in order to stay current with its key demos.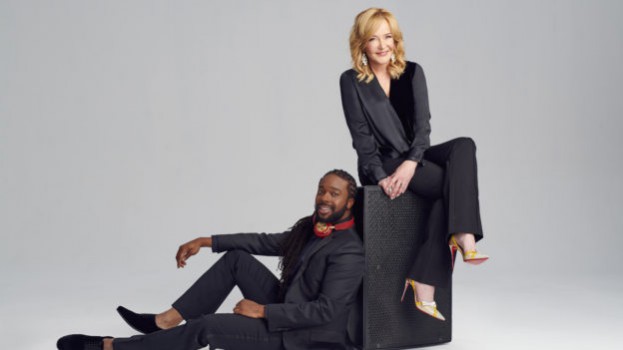 Last month marked the official retirement of longtime radio broadcaster Roger Ashby. Ashby, who hosted mornings on Bell Media's CHUM 104.5, wrapped up his tenure after five decades with the station.
Now, Bell Media is using the opportunity to rebrand the morning show of its flagship station. The longtime duo of "Roger and Marilyn" has been changed to "Marilyn Dennis and Jamar." Co-host Jamar McNeil first joined CHUM in July, turning the duo into a trio. Now, he and Dennis will take the reins on the program.
"Marilyn is a superstar, and we wanted to pair her with someone who was going to elevate the station and the morning show in a slightly new direction," Sarah Cummings, program director at CHUM tells MiC. "When he joined the morning show [in the summer] that was around the time we did a re-launch of the CHUM brand and a freshening up of that station overall."
Cummings said Bell Media is now continuing on with that mission to "freshen up" CHUM and revamping the morning format slightly.
While Cummings said the show and the station overall do very well in terms of ratings – CHUM overall boasted a 6.8 audience share last fall, up slightly from the previous quarter – it wants to stay ahead of the game by better engaging its audience. That's especially key in CHUM's main demo of women 25 to 54 (CHUM boasts a 14.1 in that group), although Cummings said it wants to remain diverse.
"The number one thing we've put in place for the new show is that we've evolved it to be very interactive. [We'll have] lots of on-air texters and callers, real-time interactions with social media, bringing in the community." While engaging with listeners on air has been a part of the show for some time, she said more airtime will be dedicated to make it the main focus.
The What's Trending segment with host Caitlin Green is being upped to four times every morning (once every hour). Increasing the frequency, said Cummings, helps keep with the local focus, while adding pop culture and entertainment angles to the content. "That usually sparks a conversation within the show and with our audience."
She says that while the revamped show is "not a talk show by any means," audience involvement will become its signature.
"We're focused on how to get in front of people and make sure people know we're there."