The Globe relaunches Globe Advisor
With a new editor at the helm, the B2B publication has updated its news offering and its industry tools.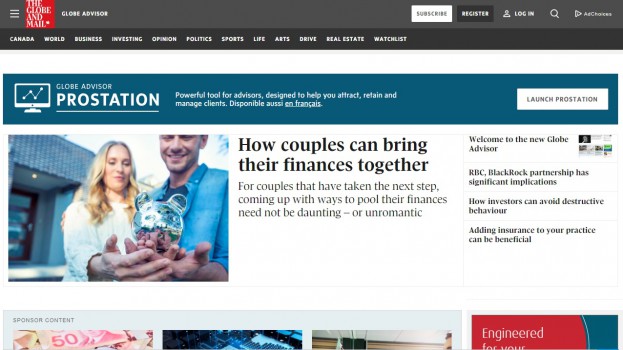 The Globe and Mail has relaunched one of its premium business products, Globe Advisor.
Now with editor Pablo Fuchs at the helm, Globe Advisor will expand its industry coverage, analysis and content on topics such as stocks, mutual funds, ETFs, insurance, taxes, financial planning and more. Daily newsletters will now provide three daily stock market updates, and a weekly Friday newsletter will include curated content from the Globe Advisor along with selections from Globe Investor and Report on Business. The site has also redesigned its key ProStation tool, which helps advisors create model portfolios for clients.
Garth Thomas, managing director of business and financial products at The Globe and Mail, tells MiC the changes came at a time when the Globe realized how valuable advisors were within its business audience.
"After a lot of research, we found that the advisor market is responsible for 80% of asset sales in Canada. We felt it was high time to give [Globe Advisor] the attention it deserves."
The updates will make Advisor more user-friendly, while still maintaining compliance with regulations within the advisor market.
Fuchs previously served as senior editor, then managing editor, of Investment Executive. Thomas says bringing him on was key to redeveloping the product. "You have someone who's been working in the investment industry, specific to the advisor market for well over 10 years. He understands the nuances of the market, how it's structured and how it works – which is fairly complicated. I think that puts us ahead of where we'd be, if we didn't have someone like him. He has a relationship with the industry, and when you're working on a B2B product, that's something you need to set yourself apart."
Globe Advisor will have a managed registration wall, meaning only registered advisors can access the content. "A lot of the other properties that do exist don't have a registration wall, so it's unclear if you're reaching a registered audience or not. The fact that you have that qualification tells our advertisers, 'okay, your money is targeted at this highly sought after group.'"
Besides standard online advertising, offerings will include sponsorship of stories or email blasts.