Spotted! Wealthsimple's old-fashioned newsstand
The financial services brand wanted to get up-close and personal with potential customers.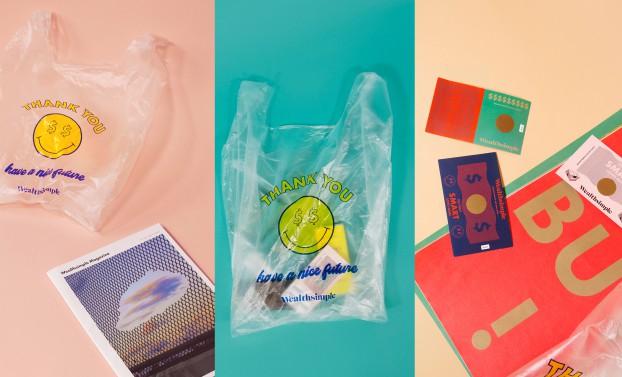 Financial services brand Wealthsimple wanted an opportunity to get more up-close and personal with Canadians, while also promoting its content-heavy marketing approach.
The brand is in the final day of a three-day pop-up event in both Toronto and Vancouver. At Hudson's Bay locations in each city, shoppers and those passing through got a peek at the new (and temporary) Wealthsimple News pop-up. The booth contained copies of a special print edition of Wealthsimple Magazine – along with promotional "lottery" tickets and classic impulse buy items like chocolate and gum.
Wealthsimple Magazine is not a long-term print product, but Rachael Factor, communications director at Wealthsimple, explains that its online counterpart has long been a pillar of its brand. "We've had this online magazine from the beginning, telling interesting stories about money. We've always wanted to try a print magazine, so we saw this as a big opportunity to just give people something special and different.
But the biggest reason for an in-person activation, Factor says, was to forge better connections with potential customers. "As an online company, we're often labelled a sort of robo-advisor. The fact is, behind our technology, we have a real team of real people. This is a chance for people to interact with those folks." The booths were staffed by real Wealthsimple employees, who were able to give out information on the brand.
The three-day activations were timed with the busy tax season, with the RRSP deadline looming on Friday. "Doing this in the last few weeks of February was no accident," says Factor. The location was also strategic; Wealthsimple wanted to combine heavy foot traffic with an indoor location in order to encourage people to stick around – rather than encourage them to walk on by in the February air. "We wanted to catch people on their commute or maybe getting their lunch, [when] they're out and about but still have a minute to chat."
Wealthsimple did not go through a buying agency for the activation, but did promote the booths through some paid social on Facebook and Twitter. "For this one, the biggest driver had to just be foot traffic."
Besides the magazine, the other items kept with Wealthsimple's themes; the scratch tickets were marketed as the "only smart lottery game," since Factor says lotteries are not a smart financial strategy (the scratch tickets instead offered bonuses such as special offers from Wealthsimple or the opportunity to skip the line for its trade app). Additionally, the gum had cheeky themes, such as the "Housing" bubble flavour.
Design firm Castor and Pollux worked on the design and build of the newsstands.