Inside Shopify's first mass media buy
CMO Jeff Weiser says the brand is good at niche and now it's time to go broad.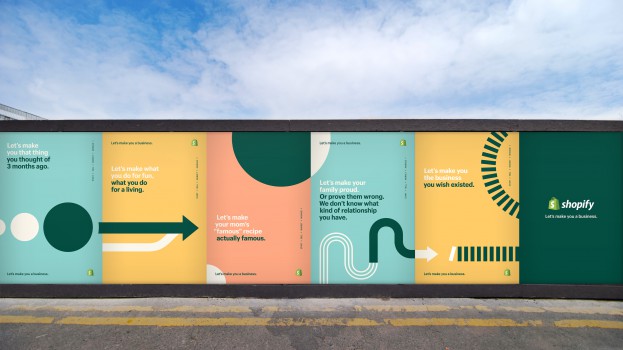 Shopify has spent the last several years steadily introducing new products into the market – new e-commerce functionality, a VR design studio and, most recently, its Shopify Studios service.
But now, the Ottawa-based ecommerce company has put something into market that it never has before: its first mass media buy.
Jeff Weiser, CMO for Shopify, tells MiC the time had come in the evolution of the company – which was founded in 2004 and took off in the 2010′s after a combined $22 million in financing over two years and a string of positive press. In an effort to attract both entrepreneurs and enterprise clients to learn about and join the platform, Shopify has launched a media campaign in 12 North American markets, with Canadian markets including Toronto and Ottawa.
Weiser says the bulk of the marketing dollars will be spent on digital video and OOH buys. However, the additional buys on radio and TV (both linear and connected) are also complementary, as Weiser says "they have that incredible broad reach per dollars spent."
Broadness is a huge part of Shopify's strategy with this buy. While it's not the company's first buy by any stretch, Weiser says there's a distinct difference now. "We've gotten very good at doing niche marketing," he says. "It's time to go after the general population."
The TV, radio, OOH and social ads went live yesterday, while digital video will launch in the coming weeks.
Although Shopify is often classified as a B2B company, Weiser says it's really somewhere in between, and that this buy is helping to communicate that identity. "It's true that we have a highly enterprise identity, but when you get to the small end of the SMB segment, you start actually talking to individuals. We've always been kind of hybrid in terms of being B2B and B2C."
The effort to communicate its mass messaging is a key component in Shopify's goal to be "a 100-year company," according to Weiser. And you can't stick around for a century being niche, says Weiser. "We want to be a household name, and we know that to do that, we have to go broad."
That broadness extends to the media it's buying against; Weiser says it's skewing just slightly to younger audience and segments that are more likely to become entrepreneurs, but in order to guarantee broad reach, it's not limiting its digital or TV buys to certain genres.
Shopify worked with New York-based full-service agency RGA on both the buy and creative.