Spotted! An ad that puts you on the outside
The point of the ad is to not be able to interact with it at all.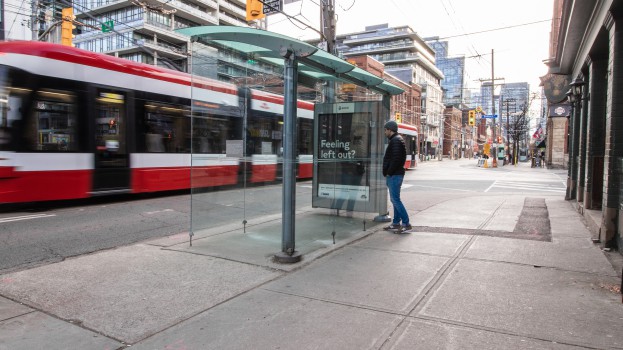 It's fairly common to use transit shelters to create effective awareness campaigns – pulling people in while they're comfortable and unassuming, only to hit them with a high-impact message that leaves them reeling.
Transit shelters have been used to get viewers close and show them what it's like to live with an abusive relationship, acknowledge Indigenous land and let everyone know how gross littering is.
But what if the person can't get close to see the ad at all? And what if that's the point?
A new campaign was created to draw attention to the ways that people with physical disabilities are left out, especially from key day-to-day things like transportation. One downtown Toronto bus shelter was adorned with a poster inside about the realities of facing barriers as a person with disabilities. The problem? The bus shelter was also 100% enclosed, with glass blocking where the entrance normally would be.
The poster's words lampshade the situation: "Feeling left out?"
The campaign is part of a co-branded effort between the City of Toronto and the Centre for Independent Living in Toronto. Both parties procured the media themselves working with vendor Astral, and full-service agency Public helped to boost the campaign through earned media, as well as paid social.
Additional transit ads were also procured, although the city did not duplicate the closed-off shelter anywhere but the original King and Bathurst Streets location. However, it did create other ads that would be considered "inaccessible" to an able-bodied person, such as an ad "written" entirely in American Sign Language, and another poster written in braille.
The signs, as well as the social ads, direct people to the Toronto For All website.
The campaign will be active until May 19. It has already prompted some discussion and debate online, including from some who say that an awareness campaign is not enough.