Upfronts '19: Mike Holmes moves to Bell Media
New series starring renovation expert Holmes are headed to both the main CTV network and the rebranded CTV Life specialty.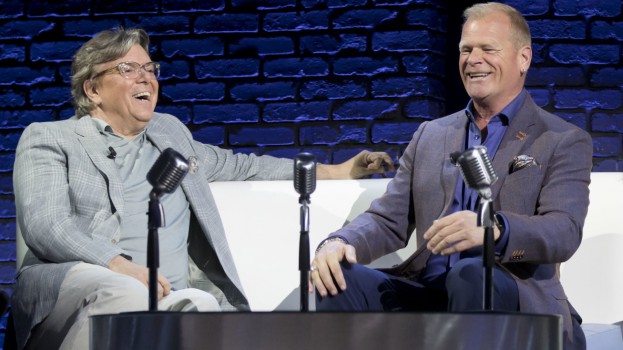 After nearly two decades as one of the faces of Corus Entertainment's HGTV Canada, lifestyle star Mike Holmes is switching networks.
Bell Media revealed Thursday that Holmes will star in original series that air on both the main CTV network and the soon-to-be-rebranded CTV Life specialty channel (formerly Gusto).
Holmes Family Rescue, a series that sees Holmes teaming up with his children Mike Jr. and Sherry as they transform the lives of homeowners across the country, will debut in summer 2020 on the main CTV channel. Meanwhile, a second original series, Holmes 911, will launch on CTV Life this fall, in addition to a catalogue of other series previously produced through his Make It Right production banner.  
Bringing Holmes – one of the most recognizable Canadian stars in the renovation space – into the fold is a significant coup for Bell Media as it prepares to launch its rebranded specialty channels in September. The addition of renovation-style content also represents an expansion of CTV Life's programming remit, which until now has focused more on culinary series, as well as shows like the wedding-themed Where To I Do? and the docuseries Dog Tales Rescue.
On the main CTV channel, too, the new Holmes series will be somewhat of an outlier for a network that has not typically programmed a great deal of content in the renovation or lifestyle space. Bell Media declined to specify whether the series will air in prime time, offering only that it will be a "tent-pole" series.
Over the past 15 years, Holmes has built out both a talent and production brand with series including Holmes on Homes, Holmes: Buy It Right, Holmes Inspection and Holmes Makes it Right, and guest appearances on other shows like Home to Win and The Search for Canada's Next Designer. He also heads up The Holmes Group, a global company with operations home building, construction and inspections, in addition to independent production.
Elsewhere, Bell Media confirmed that, following strong ratings in its first season, Jann will return for a second.
Bell Media also confirmed Thursday that season four will be the last for the hour-long drama Cardinal, starring Billy Campbell and Karine Vanasse. The show's final season will debut in mid-season.
This story originally appears in Playback.