Audiences tune in with Raptor furor: Numeris
Games one and two of the NBA Finals top every Canadian market as pre-game shows knock long-running TV series out of the top-five.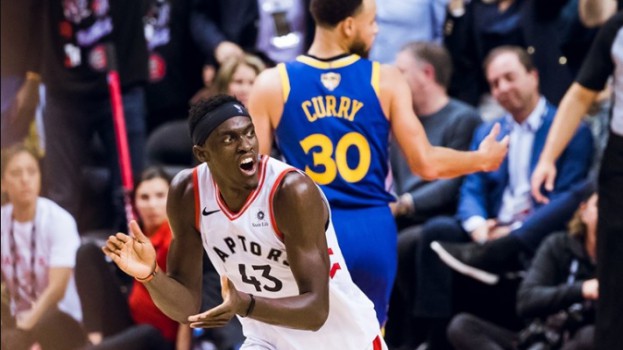 Across the country Raptor fever continues to make big waves taking the top spot in all but the Montreal market for the week ending June 2.
Nationally, one and two reached an average of 3.2 million and 2.7 million viewers respectively, while reality competition shows managed to cut through the top-five. The U.S. version of The Amazing Race drew 1.62 million viewers and the 14th season opener of America's Got Talent had 1.3 million tune in; AGT also topped the Montreal market with 66,000 viewers.
Refuge animal, the reality animal rescue shelter show saw big numbers with Quebec viewers as 771,000 watched the penultimate episode of the show's fifth season. And, Gala Québec Cinéma honouring the Québec film industry drew 626,000 viewers.
Canada (Anglophone)
1. Raptors vs. Warriors on TSN Sunday at 8 p.m.: 3.2 million viewers
2. Raptors vs. Warriors on Sportsnet Thursday at 9 p.m.: 2.7 million viewers
3. The Amazing Race on CTV Wednesday at 8 p.m.: 1.62 million viewers
4. Raptors vs. Warriors on Sportsnet Ontario Thursday at 9 p.m.: 1.6 million viewers
5. America's Got Talent on Citytv Tuesday at 8 p.m.: 1.3 million viewers
Quebec (Francophone)
1. Refuge animal on TVA Monday at 7 p.m.: 771,000 viewers
2. Les chefs on SRC Monday at 8 p.m.: 728,000 viewers
3. La poule aux oeufs d'or on TVA Wednesday at 7 p.m.: 724,000 viewers
4. Gala Québec Cinéma 2019 on SRC Sunday at 8 p.m.: 626,000 viewers
5. La recrue on TVA Wednesday at 8 p.m.: 625,000 viewers
Montreal (Anglophone)
1. America's Got Talent on Citytv Tuesday at 8 p.m.: 66,000 viewers
2. Raptors vs. Warriors on TSN Sunday at 8 p.m.: 57,000 viewers
3. Masterchef Canada on CTV Monday at 8 p.m.: 44,000 viewers
4. Island of Bryan on HGTV Sunday at 10 p.m.: 40,000 viewers
5. The Big Bang Theory on CTV Thursday at 8 p.m.: 40,000 viewers

Toronto/Hamilton
1. Raptors vs. Warriors on TSN Sunday at 8 p.m.: 1.72 million viewers
2. Raptors vs. Warriors on Sportsnet Thursday at 9 p.m.: 1.2 million viewers
3. Basketball Central on Sportsnet Ontario Thursday at 8:30 p.m.: 473,000 viewers
4. Raptors vs. Warriors on CTV Sunday at 8 p.m.: 414,000 viewers
5. NBA Finals pre-game show on TSN Sunday at 7 p.m.: 368,000 viewers

Edmonton
1. Raptors vs. Warriors on TSN Sunday at 8 p.m.: 134,000 viewers
2. Raptors vs. Warriors on Sportsnet West Thursday at 7 p.m.: 121,000 viewers
3. America's Got Talent on Citytv Tuesday at 9 p.m.: 77,000 viewers
4. The Amazing Race on CTV Wednesday at 9 p.m.: 71,000 viewers
5. The InBetween on Global Wednesday at 8 p.m.: 57,000 viewers
Calgary
1. Raptors vs. Warriors on TSN Sunday at 8 p.m.: 139,000 viewers
2. Private Eyes on Global Wednesday at 10 p.m.: 74,000 viewers
3. The Amazing Race on CTV Wednesday at 9 p.m.: 72,000 viewers
4. America's Got Talent on Citytv Tuesday at 9 p.m.: 66,000 viewers
5. Elementary on Global Thursday at 8 p.m.: 65,000 viewers
Vancouver/Victoria
1. Raptors vs. Warriors on TSN Sunday at 8 p.m.: 230,000 viewers
2. Raptors vs. Warriors on Sportsnet Thursday at 6 p.m.: 207,000 viewers
3. America's Got Talent on Citytv Tuesday at 8 p.m.: 157,000 viewers
4. The Amazing Race on CTV Wednesday at 8 p.m.: 129,000 viewers
5. Island of Bryan on HGTV Sunday at 10 p.m.: 119,000 viewers