Giants & Gentlemen make a Push into media
The deal culminates the agency's two-year search and marks its third in-house partner.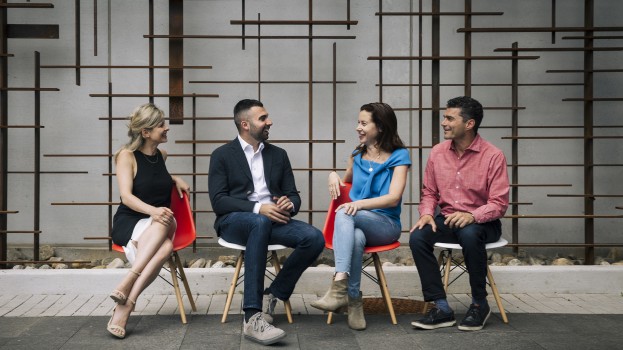 Pictured above, left to right: G&G co-founder and CCO, Natalie Armata, Push president, Kyle Verge, G&G co-founder and CCO, Alanna Nathanson, G&G co-founder and CSO, Gino Cantalini.
Creative agency Giants & Gentlemen has signed a deal to bring on an in-house media partner, aligning with Push, a branding and marketing agency.
G&G had been keen to bring media services onto the slate, searching for more than two years for the right fit, says co-founder and chief strategy officer, Gino Cantalini. Having worked with Push previously, the agencies found a shared philosophy in both values and goals. Integration and collaboration are key to finding innovative solutions and for growth, Cantalini says. With Push, the agency has added media planning and execution to its offerings, on top of brand strategy, creative and design.
Push will be the third in-house partner for G&G, which most recently brought Brave Productions on board to establish a video and commercial department.
G&G came on the scene in 2012 launching offerings like Outhinking, a model that sources perspectives from those outside the industry to consult on projects. Meanwhile, Push – launched the same year – created a "Zero-Waste" model, which president Kyle Verge describes as a four-prong approach that includes predictive marketing, smarter testing, empathetic journeys and analysis and adaptation.
Often, a "broken telephone effect" can emerge with the traditional media and creative agency model, Verge says, and this partnership looks to solve that. "We find that executing a compelling creative campaign and strategy across multiple channels – with media involved from day one throughout each step – has a significant impact on performance and overall success, especially considering how complex the digital landscape is today," Verge says.
However, digital is not the sole focus. A "moments-based traditional" strategy has provided Push with success in the midst of a crowded and increasingly expensive digital landscape, Verge says. "When we layer traditional offline mass media to achieve top-of-funnel awareness, we make sure our traditional strategy focuses on premium 'moments' content," he explains, adding that approach ensures a streamlined strategy without fragmentation and gaps.