Pattison Outdoor brightens the PATH
Digital wall canvas from the OOH vendor presents unique opportunities for advertisers in video, animation and still image formats.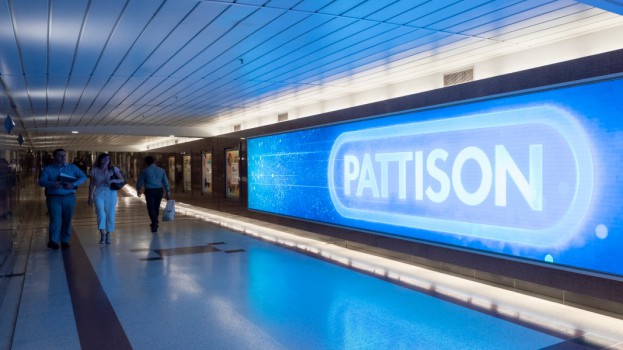 A new digital wall canvas lining the corridors of PATH is the Toronto underground network's largest indoor digital display, the latest installation from Pattison Outdoor.
Launched July 5, the digital canvas measures 48 feet wide and stands 5 feet 6 inches high with a 1.5 millimetre LED panel. With capabilities for full motion video, animation, static imagery, the canvas captures 1.2 million monthly impressions. More than 200,000 downtown workers filter through PATH's 30 kilometres of restaurant, retail and other services, every day.
In a statement to MiC, Christina Ogrodnick, VP of commercial and residential development at Pattison said the OOH advertiser has been eyeing the value of the PATH audience for some time, focusing growth in these properties.
"Our objective now is to work with our real estate partners to install beautiful digital displays that provide dynamic content so that we can execute a media product that allow brands and their agencies to take their creativity to the next level," she said.
The digital wall canvas is the latest installment in Pattison's Urban Pathways network, an effort by the company to connect brands with urban audiences in Toronto, Calgary, Montreal and Vancouver. Earlier this year Pattison installed a similar digital canvas along the corridor in Calgary's Plus 15 Network, a system of 16 kilometres of sheltered pedestrian walkways that includes 83 bridges.