A pair of new VPs to lead DAC in Canada
Sonia Allard will direct the team in Montreal, while Adam Luck takes the reigns in Toronto and Vancouver.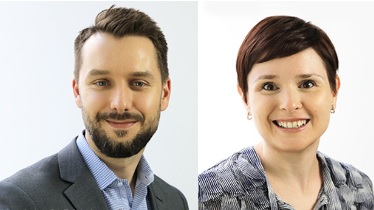 A pair of new hires are stepping into leadership roles in the Canadian branch of performance marketing agency, DAC.
In her new role as vice-president in Montreal, Sonia Allard (pictured above right) brings more than 15 years of digital marketing experience in senior positions at iProspect and most recently, Adviso. Allard specializes in optimizing marketing and operations processes and will report directly to CEO and managing partner Norm Hagarty.
In a statement, Hagarty referred to Allard as "an exceptional marketer," who possesses, "key skills in areas that are increasingly important to our ongoing growth and evolution as an agency."
Taking the helm in both the Toronto and Vancouver offices, Adam Luck (pictured above left) will also serve in a vice-president role after four years with IPG Mediabrands. Luck brings with him experience working with some of Canada's largest advertisers with whom he has curated a strong, strategic leadership style and client relationship abilities, Hagarty said.
While Luck said he wants to focus on building DAC's current strenghts – including paid media, digital and data analytics – he added that he plans to tap into DAC's "unique local offering" to help clients find new growth opportunities.