iGotcha Media brings digital signage to Montreal's Old Port
Building on the success of two digital kiosks installed in 2017, the company unveiled two more guiding visitors with local info, advertising.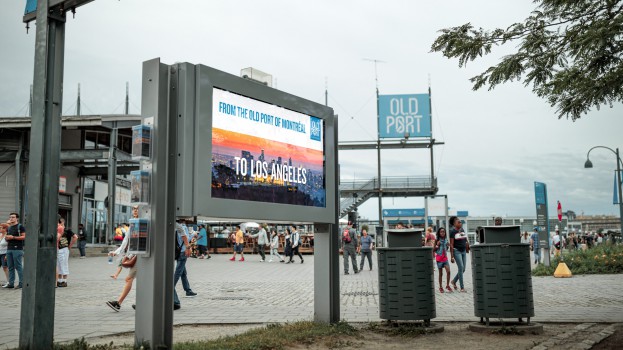 When the Old Port of Montreal approached iGotcha Media with a plan for digital signage it was because they had already seen success with the first two kiosks it had installed back in 2017. Now, two more have been constructed using existing infrastructure from former static signage.
The double-sided 75″ LG monitors rotate content in both French and English, offering tourists and locals alike, information about the city and the high-traffic destination of the Old Port. "We see this quite often," Greg Adelstein, president of iGotcha Media tells MiC. "A lot of our clients are looking toward updating paper signage with digital signage."
The kiosks, encased in custom-made aluminum frames built to withstand the scorching heat of direct sunlight and the chilling cold of Montreal weather, are managed by Old Port staff.
Pierre Ayotte, digital project manager of the Old Port of Montreal Corporation said in a statement, the kiosks present information in a user-friendly way, suited to outdoor venues. "Because we receive around seven million visitors per year, we need to find effective ways to communicate with them," he said.
Equipped with wi-fi and using proprietary software from iGotcha, the content is updated remotely, Adelstein says, with a combination of maps, information about local attractions, sponsors of the Old Port as well as current events. "The Old Port promotes… their partnerships with Telus and Coca-Cola," he adds.
Similar kiosks were recently rolled out in partnership with TransLink, the public transportation system in B.C.'s Lower Mainland. "This is part of our core business," says Adelstein, who finds clients increasingly approach the company with a clear vision to transition to digital, like the Old Port did. "At the end of the day, the cost isn't that much different."