The Amazing Race Canada hangs on to its lead: Numeris
As summer nears its close, the premiere of BH90210 almost knocks The Amazing Race Canada from the top spot.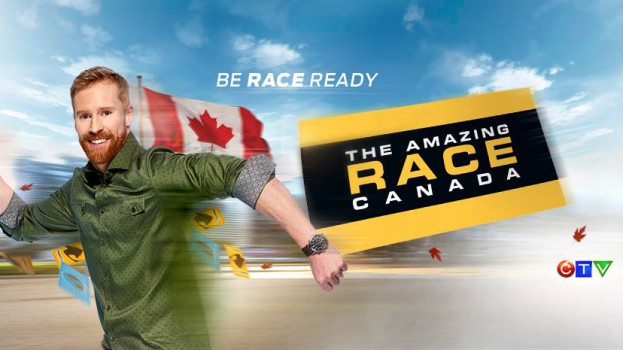 While The Amazing Race Canada maintained its stay at the top of the Numeris charts, a new entry had a solid showing in markets across the country for the week ending Aug. 11.
BH90210, the meta reboot of the 90′s California high school drama drew nearly 1.8 million viewers nationally, just shy of Race's AMA of 1.9 million. In Toronto/Hamilton and Vancouver/Victoria the Aug. 7 premiere of the Global series topped the charts and maintained a second or third spot finish in each market except Quebec.
Among Francophone viewers, La recrue remained the most-watched single night broadcast with an AMA of 701,000 viewers. Comedy also resonated with Quebec viewers this week as Les beaux bloopers and Lol entered the charts with more than 550,000 viewers each.
Canada (Anglophone)
1. The Amazing Race Canada on CTV Tuesday at 9 p.m.: 1.9 million viewers
2. BH90210 on Global Wednesday at 9 p.m.: 1.74 million viewers
3. America's Got Talent on Citytv Tuesday at 8 p.m.: 1.49 million viewers
4. Private Eyes on Global Wednesday at 8 p.m.: 1.35 million viewers
5. Big Brother on Global Thursday at 9 p.m.: 1.2 million viewers
Quebec (Francophone)
1. La recrue on TVA Wednesday at 8 p.m.: 701,000 viewers
2. Chicago Fire: Caserne 51 on TVA Monday at 8 p.m.: 657,000 viewers
3. A l'affiche dimanche on TVA Sunday at 7:30 p.m.: 633,000 viewers
4. Les beaux bloopers on TVA Tuesday at 8 p.m.: 570,000 viewers
5. Lol on TVA Tuesday at 8:30 p.m.: 556,000 viewers
Montreal (Anglophone)
1. America's Got Talent on Citytv Tuesday at 8 p.m.: 62,000 viewers
2. BH90210 on Global Wednesday at 9 p.m.: 54,000 viewers
3T. Instinct on Global Sunday at 9 p.m.: 35,000 viewers
3T. The Amazing Race Canada on CTV Tuesday at 9 p.m.: 35,000 viewers
3T. Masterchef on CTV Thursday at 8 p.m.: 35,000 viewers
Toronto/Hamilton
1. BH90210 on Global Wednesday at 9 p.m.: 481,000 viewers
2. America's Got Talent on Citytv Tuesday at 8 p.m.: 419,000 viewers
3. The Amazing Race Canada on CTV Tuesday at 9 p.m.: 381,000 viewers
3. Private Eyes on Global Wednesday at 8 p.m.: 266,000 viewers
4. Instinct on Global Sunday at 9 p.m.: 232,000 viewers
Edmonton
1. The Amazing Race Canada on CTV Tuesday at 8 p.m.: 84,000 viewers
2. America's Got Talent on Citytv Tuesday at 9 p.m.: 63,000 viewers
3. BH90210 on Global Wednesday at 10 p.m.: 61,000 viewers
4T. Big Brother on Global Sunday at 9 p.m.: 58,000 viewers
4T. The Big Bang Theory on CTV Sunday at 7 p.m.: 58,000 viewers

Calgary
1. The Amazing Race Canada on CTV Tuesday at 8 p.m.: 77,000 viewers
2. BH90210 on Global Wednesday at 10 p.m.: 73,000 viewers
3. Private Eyes on Global Wednesday at 9 p.m.: 72,000 viewers
3. America's Got Talent on Citytv Tuesday at 9 p.m.: 68,000 viewers
4. Instinct on Global Sunday at 8 p.m.: 63,000 viewers
Vancouver/Victoria
1. BH90210 on Global Wednesday at 9 p.m.: 164,000 viewers
2. Instinct on Global Sunday at 9 p.m.: 142,000 viewers
3. America's Got Talent on Citytv Tuesday at 8 p.m.: 138,000 viewers
4. Blood and Treasure on Global Tuesday at 10 p.m.: 137,000 viewers
5. Big Brother on Global Sunday at 8 p.m.: 136,000 viewers