CMDC honours 2019 Future Impact winners
Ten recipients chosen from over 200 entries 'are proof that the future in the media industry is looking bright,' says Shannon Lewis.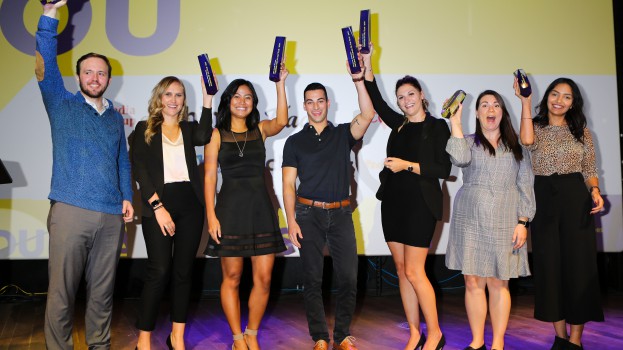 Ten media players – both new to the industry and in mentorship positions – were honoured by the Canadian Media Directors' Council Youth Ambassadors in a ceremony in Toronto last week.
The following are the recipients of the 2019 Future Impact Awards:
The Notable Newcomer of the Year was Matt Scullion, a campaign manager with Reprise Digital and Julia LaPlante, a planner with Jungle Media was awarded Mentor of the Year.
Morrow Oxley was named Innovator of the Year for his work as a data analyst with Cossette Media. Jaskiran Dhillon, a media executive with MediaCom took home the Collaborator of the Year award and Insight of the Year went to Elim Chan, a planner with Jungle Media.
Ericka Mercado, a research analyst with Wavemaker was named Trendsetter of the Year and Marketer of the Year went to Nicole Gauthier, a communications manager for Ford.
As a talent manager, Fidel Romero of IPG Mediabrands won Advocate of the Year honours, while Sarah Benzinger, a supervisor and former planner for connection planning UM won Techie of the Year.
And, Media Leader of the Year was awarded to Geneviève Guay, the newly appointed president of Dentsu X.
In a statement, Shannon Lewis, president of CMDC said the winners "are proof that the future in the media industry is looking bright." More than 200 entries were submitted, she noted, offering stories of invaluable contributions in shaping the future of media. "We wanted to harness and celebrate the spirit of these young minds and encourage them to be champions of tomorrow," she added.