Record quarter for ads, users at theScore
The mobile sports media company is diving deep into sports betting, but its ad business continues to grow.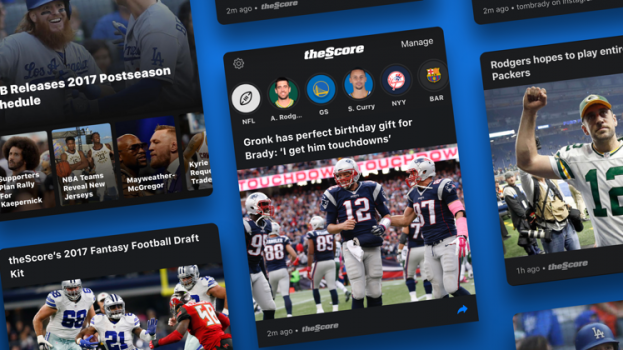 TheScore may be in the process of diversifying its revenue streams – in the summer, it launched its U.S.-based mobile sportsbook for digital sports betting – but its advertising business is still helping it drive record revenue.
Revenue for the company's fourth quarter (for the period ended Aug. 31) came to $6.4 million, its highest yet. That compares to $5.1 million in the same period last year, with year-over-year growth of 25%. The lift was attributed mostly to its direct sales in Canada and the U.S. It also achieved a new record for users. Average monthly sessions (total) over the quarter reached 272 million, representing 6% growth. On an individual basis, users opened the app an average of 75 times each per month.
Social content reached 124 million users in Q4, a new quarterly record and year-over-year growth of 150%. Total video views of theScore's e-sports content reached 85 million, also a new record, representing growth of 157%.
Despite the growing success on its core product, theScore remains serious about expanding its U.S. mobile sports betting business as a revenue stream. The business launched in New Jersey, but recently secured market access rights to offer the service in an additional 11 states as part of a partnership with Penn National Gaming. Penn National also took an equity stake in theScore, subscribing for USD$7.5 million of Class A Shares.
TheScore also secured $40 million in strategic investment from a fund managed by Fengate Asset Management. The funding was also to develop the betting business, although founder and CEO John Levy told MiC the funding will also enable greater technological improvements across the board for theScore's core app, which focuses on data, scores and news.
However, Levy also added in a statement for the results that the continued growth of the media business will propel theScore into a strong position as it enters fiscal 2020. Revenue for the 12 months ended Aug. 31 was $31.1 million, up from $27.7 million from the same period last year, representing growth of 12%.
EBITDA loss for the quarter was $4.1 million (versus $2.4 million for Q4 2018). That increased loss was due largely to the expenses of developing the betting business. EBITDA loss for the fiscal year was $6.5 million, versus $2.4 million in F2018.