Adapt Media expands into the Mink Mile
The large-format static boards target one of Toronto's busiest – and most high-end – shopping and working districts.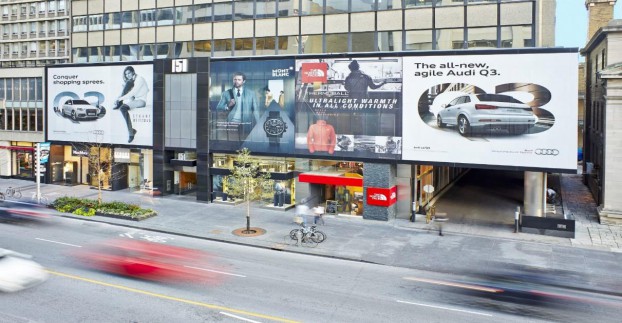 Adapt Media has added another major outdoor unit to its advertising network.
Through a partnership with Ads Alfresco, Adapt Media has acquired the selling rights to a group of large-format faces on Toronto's Bloor Street. The faces aren't traditional billboards, says Adapt Media president Jamie Thompson, but six different decals that sit atop the buildings at 151 Bloor Street West.
The large formats drive more than one million weekly impressions and Thompson notes that the audience is highly valuable. Besides heavy footfall and car traffic from Bloor being a main thoroughfare (the buildings are located near two of Toronto's busiest intersections), the neighbourhood is also known as the "Mink Mile" for its high-end shops and office buildings. The boards themselves sit atop shops like Mont Blanc, Peloton and more.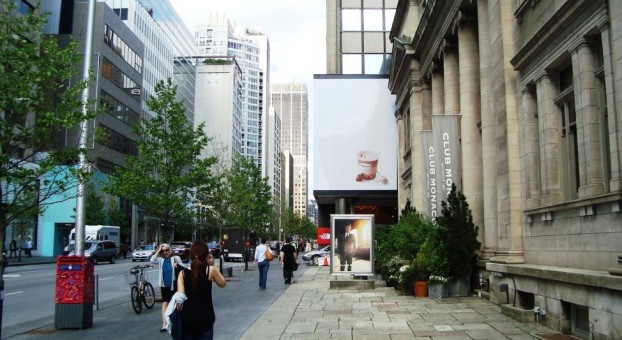 Although the billboards are static, Thompson tells MiC that there are some more modern features to the boards that keep viewability high. "There are these motorized blinds that we installed behind the boards, so they shut at night, so that light doesn't puncture through from the office buildings and you can see the image much better."
Ads Alfresco is a newer player in the media selling business. The company was founded by Jesse Galal, who previously owned digital media company Loudmouth Entertainment and since moved into OOH inventory ownership.
Early advertisers on the units include Givenchy, Tim Horton's, Max Mara, Audi and others.