Vice has the munchies for oat milk
To promote its new Oat Yeah beverage, Silk looks to tap numerous sub-audiences, from environmentalists to early adopters.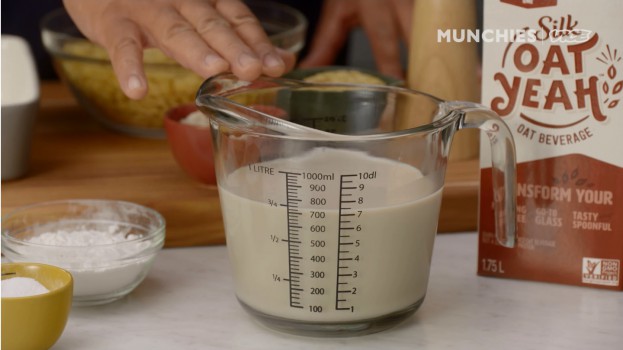 When one thinks of dairy-free recipes, they might think of fruit-and-veggie-packed smoothies or gluten-free desserts made from a collection of chemical compounds. To change that blasé perception, Silk is promoting its new Oat Yeah beverage through a partnership with Vice where it goes all-out on indulgent foods like savoury crepes and mac and "cheese."
The DanoneWave brand, which is traditionally known as a manufacturer of soy milk, has branched out over the last decade, creating popular lines of beverages from almonds, cashews, coconuts and, now, oats.
Oats have been quick to rise in prominence as an alternative to dairy. Unlike the more established almond- and soy-derived products, oats require less water and land use to produce, and are free from more common allergens. In order to accelerate the growth of Oat Yeah, Silk – with the help of its media agency Wavemaker – partnered with Vice's food brand, Munchies, to create two custom videos and recipes featuring plant-based specialist chefs David Lee (Planta Toronto) and Charles Antoine-Crête (FoodChain Montreal) using Silk products.
The content partnership, according to Wavemaker director of business and marketing Glenn Thomas, is part of a wider media campaign focused on digital. The ad buy went live on Facebook and Instagram earlier this week, along with an influencer campaign that was managed by the CARL agency. The second phase of the Facebook/Instagram campaign will go live Dec. 16.
Targeting broadly at adults 25 to 44, Thomas says there are numerous consumer sub-groups that Wavemaker is looking to capture. The campaign will have a special target on ethnic populations, he says (some ethnic populations over-index on lactose intolerance), along with people who have specific diets to follow (besides people who are vegan, the recipes can appeal to those who are halal, kosher or dairy-free because of health reasons). Early adopters of oat drinks and dairy alternatives are another target, as well as environmentalists, adventurous cooks and health-conscious people.
Vice is a new partner for Silk, says Thomas, and Wavemaker and Vice are currently brainstorming partnership ideas for 2020, says Thomas. The content-focused strategy differs slightly from Silk's typical market strategy, which has focused on more traditional advertisements that communicate product points, rather than influencer- and content-led campaigns.