Spotted! Starbucks adds AR magic to Christmas
Building off last year's tree lighting sponsorship, the QSR paired with Snapchat to bring a magical train through the mall.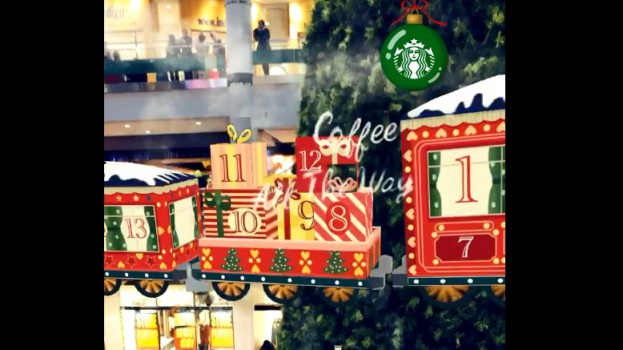 For the second year in a row, Starbucks Canada kicked off the holiday season by lighting up the iconic Christmas tree in the middle of the CF Toronto Eaton Centre. And this year, it's added a mobile twist.
Working with Snapchat through its agency Spark Foundry, Starbucks Canada created an AR experience to promote its presence at the tree and tie that to its overall holiday campaign.
For shoppers, as they approach the tree in the mall they will see posters and decals with a customized Snapcode. Snapchat users can use this to unlock a customized Lens. When they activate the Lens, a magical Christmas train takes a trip along the mall's railings. It chugs along against the backdrop of the tree before flying into the night sky. It leaves behind a steamy message ("Coffee all the way").
The experience was powered through Snapchat's AR Maker Tech. The goal, according to a company spokesperson, is to connect Starbucks' Christmas campaign with the physical world in an interactive way. Starbucks has a significant footprint in the mall, with one location only feet away from the base of the tree.
Last year was not only Starbucks' first year as the tree-lighting sponsor for the beloved tree, but also the first year the tree had a presenting sponsor. Additional promotion for the partnership includes digital place-based and social media.