Spotted! Warner Bros and Innocence Canada send a message
To promote the film Just Mercy, the pair are drawing awareness to wrongful conviction with a real-life prison experience at Brookfield Place.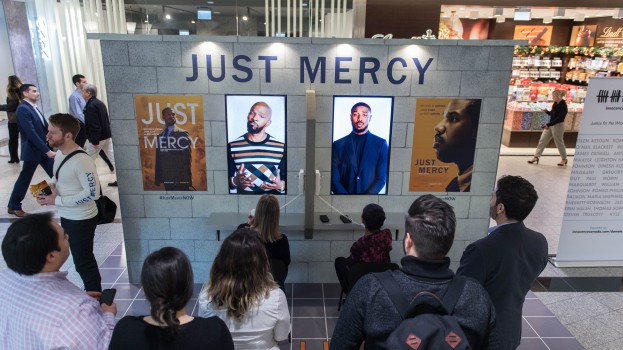 The bigger cases are the more well known; David Milgaard in Saskatchewan and more recently, Glen Assoun in Halifax. But for the most part, wrongful convictions are not something the average Canadian considers despite nearly 100 open cases currently.
As part of the campaign for Just Mercy, a Warner Bros film detailing the story of Walter McMillan, an African-American man who successfully appeals his murder conviction for the killing of a white woman in 1986 Alabama, the studio reached out to Innocence Canada.
The result was a two-day activation #JustMercyNOW at Toronto's Brookfield Place where people were invited to sit in a recreated inmate visitation area and pick up a receiver similar to the format in which prisoners speak to their visitors. On the other end were three stars of the film and advocate George Stroumboulopoulos narrating true stories of wrongful convictions in Canada with a visual accompaniment.
"The most compelling aspect is hearing the stories," says Kerry Emmonds, director of development at the Toronto-based non-profit organization that advocates for and exonerates those convicted of crimes they did not commit. "It's the most innovative thing that we've ever done.
"One of the problems with us is that people think [wrongful conviction] is an American issue," Emmonds says, because "the legacy of racism is a different flavour."
Emmonds tells MiC the activation is promotion for both the film and the organization, which is timely because it is currently facing a "funding gap." Innocence Canada relies heavily on private donations as well as support from the Government of Ontario. However, a three-year funding effort from the provincial Liberal government was not renewed by the Conservatives.
Visitors were invited to share their experiences through social media using #JustMercyNOW. The digital spots used for the installation are also running online and have garnered more than 1 million views.
 "We have probably reached more people through those videos in four weeks than in 25 years," Emmonds says. "Because our focus is always on the cases, there isn't a lot of public awareness or fundraising work."
Just Mercy is based on the memoir of the same name published in 2014 and is January's book of the month at Indigo. A montage video of the four digital spots is also running as a preview in select movie theatres.