Why OOH continues to grow spend
From spirits to meal delivery, advertisers share how they're getting creative with this analogue favourite.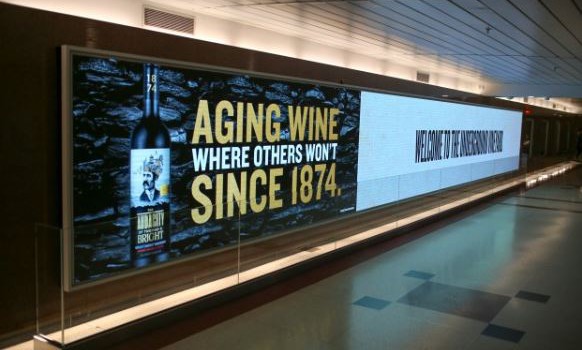 As the world of advertising increasingly goes digital, one traditional medium has proven resilient: out-of-home.
According to Zenith, Canadian advertisers spent $714 million on OOH last year, and that's set to grow to $767 million by 2022. In a landscape of fragmenting audiences, it's a growing medium for brands seeking to assert market dominance, such as meal delivery service SkipTheDishes, which has the highest market share in its category at 25%.
The brand's director of brands and campaigns Kendall Bishop says its OOH strategy has shifted over the years from small, place-based buys to larger spectaculars to reflect that. "We found larger installations, like our TTC station takeover last fall, give us a stronger ability to claim market share and boost consideration," she says. "[OOH] is an important part of our overall strategy because of its potential to enhance the impact of other media with a multiplier effect."
While out-of-home is clearly a vehicle for mass reach – it also offers advertisers the opportunity to be more niche and tactical via contextual buys that can unlock both experiential and social media value.
OOH is usually centre stage for the wine and spirits category, says Daniel Flecker, senior brand manager for Absolut, Kahlua and Malibu at Corby Spirit and Wine. Sometimes, he says, Absolut will use the medium for stunt-based activations, like when it created a summertime streetcar wrap that advertised bottles of Absolut Vodka on the outside with the tagline, "It's what's on the inside that counts." Inside the streetcar, a creative domination promoted Absolut's flavours portfolio with zero added sugars.
Arterra Wines also mastered the game of tactical OOH that ties into the surrounding environment during TIFF. During the film fest, it advertised its then-new wine, The Audacity of Thomas G. Bright. Aside from turning the nearby PATH into an underground vineyard, it took over bus shelters surrounding the festival with cheeky phrases like "As audacious as banning cars from King Street," as a contextual nod to Toronto's transit priority corridor.
"Yes, out-of-home is an effective medium to push reach. But it allows for so much customization," says Flecker. "You can be really, really selective about what the creative is for each location. It's quite lazy, as a marketer, to not be contextually relevant with out-of-home."