The Good Doctor's audience surges like never before
This is the first time a scripted program has hit more than three million views this season.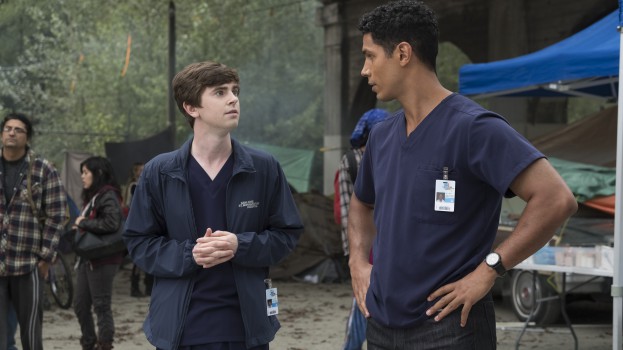 Last week, The Good Doctor clocked in an average minute audience of 2.68 million viewers for its March 23 episode, marking an all-season high for the CTV drama.
This week, The Good Doctor broke a new record, shooting up to an average of 3.03 million viewers and topping the Numeris charts for all programs March 30 to April 5.
The Good Doctor not only broke its own record for the season, but it also became the first scripted program during the 2019-2020 TV season to reach an AMA of more than three million viewers – a figure not seen for a series since The Big Bang Theory last hit the airwaves.
Although Canadians have continued to consume more news than they did earlier in the year, scripted and entertainment programs have still taken up the majority of viewers' at-home time. Grey's Anatomy, The Masked Singer, Station 19 and Survivor all pulled in AMAs of more than two million.
Some markets favoured news more than others; Montreal, Edmonton and Vancouver/Victoria were by far the biggest consumers of evening news programs. Quebec (Francophone) and Toronto/Hamilton, on the other hand, were much more interested in single-night entertainment programs.
Canada (Anglophone)
1. The Good Doctor on CTV Monday at 10 p.m.: 3.03 million viewers
2. Grey's Anatomy on CTV Thursday at 9 p.m.: 2.33 million viewers
3. The Masked Singer on CTV Wednesday at 8 p.m.: 2.14 million viewers
4. Station 19 on CTV Thursday 2.11 million viewers
5. Survivor on Global Wednesday at 8 p.m.: 2.09 million viewers
Quebec (Francophone) 
1. Tout le monde en parle on SRC Sunday at 8 p.m.: 1.36 million viewers
2. Infoman on SRC Thursday at 7:30 p.m.: 1.26 million viewers
3. Lâcher prise on SRC Monday at 7:30 p.m.: 1.14 million viewers
4. Les enfants de la téle on SRC Wednesday at 8 p.m.: 979,000 viewers
5. La facture on SRC Tuesday at 7:30 p.m.: 966,000 viewers
Montreal (Anglophone)
1. The Good Doctor on CTV Monday at 10 p.m.: 94,000 viewers
2. Grey's Anatomy on CTV Thursday at 9 p.m.: 84,000 viewers
3. Law & Order: SVU on CTV Thursday at 10 p.m.: 75,000 viewers
4. Station 19 on CTV Thursday at 8 p.m.: 73,000 viewers
5. The Masked Singer on CTV Wednesday at 8 p.m.: 72,000 viewers
Toronto/Hamilton
1. The Good Doctor on CTV Monday at 10 p.m.: 584,000 viewers
2. Survivor on Global Wednesday at 8 p.m.: 559,000 viewers
3. The Masked Singer on CTV Wednesday at 8 p.m.: 539,000 viewers
4. Grey's Anatomy on CTV Thursday at 9 p.m.: 482,000 viewers
5. Hawaii Five-0 on Global Friday at 9 p.m.: 468,000 viewers
Edmonton
1. 9-1-1 on Global Monday at 9 p.m.: 113,000 viewers
2. NCIS on Global Tuesday at 9 p.m.: 111,000 viewers
3. The Masked Singer on CTV Wednesday at 9 p.m.: 106,000 viewers
4. The Good Doctor on CTV Monday at 8 p.m.: 101,000 viewers
5. FBI on Global Tuesday at 10 p.m.: 93,000 viewers
Calgary
1. The Good Doctor on CTV Monday at 8 p.m.: 136,000 viewers
2. 9-1-1 on Global Monday at 9 p.m.: 122,000 viewers
3. The Rookie on CTV Sunday at 8 p.m.: 117,000 viewers
4. NCIS on Global Tuesday at 9 p.m.: 112,000 viewers
5. Grey's Anatomy on CTV Thursday at 10 p.m.: 103,000 viewers
Vancouver/Victoria
1. The Masked Singer on CTV Wednesday at 8 p.m.: 224,000 viewers
2. Survivor on Global Wednesday at 8 p.m.: 214,000 viewers
3. The Good Doctor on CTV Monday at 10 p.m.: 207,000 viewers
4. 9-1-1 on Global Monday at 8 p.m.: 191,000 viewers
5. Hawaii Five-0 on Global Friday at 9 p.m.: 182,000 viewers