How Spotify's first quarter during the pandemic fared
Advertising, particularly programmatic, was hit hard, but the company says its freemium model is a big benefit.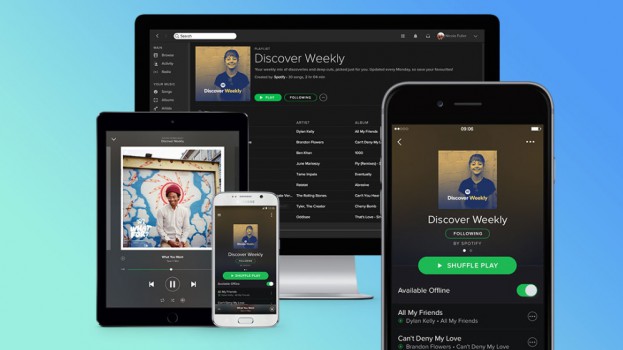 Some digital media players such as Twitter and Facebook have issued indicators or warnings that their second through fourth quarters may not turn out as planned.
In its latest earnings report, Spotify expressed confidence for the remainder of the year that, despite a slowdown in advertising, its key performance indicators remain unchanged, and it might have its freemium model to thank for positive results.
For the quarter, total revenue came to €1,848 million (approximately CAD$2.84 million). Premium revenue grew by 23% year-over-year and ad-supported revenues (€148 million, or CAN$227.4 million) grew by 17% year-over-year. Spotify says the growth rate fell short of expectations due to the impacts of COVID-19, particularly during the last three weeks of the quarter. Initially, it said, revenues for ads were pacing ahead of its previous forecast. Revenue in the last three weeks of the quarter was more than 20% below forecasted levels as the result of ad cancellations. Revenues in programmatic were especially hard-hit.
"The past few months have only strengthened our belief in the Freemium model," the company wrote. "While our sincere hope is for some sense of 'normalcy' to return to people's lives as quickly as possible, we do believe our model is uniquely positioned to not just weather this storm, but to come out the other side even stronger."
Spotify added that while there have been some changes in listening patterns, the trends were overall encouraging.
There was impact to the business beginning in late February, however its overall user base and paid subscribers stayed in line with projections. Daily active users and consumption did decrease in harder-hit markets such as Italy and Spain, although there have been signs of a consumption rebound in those markets in recent weeks.
"In this environment, we are seeing an evolution of Spotify's relationship with its consumers," the company wrote. "For example, when we saw consumption starting to decline, we would have assumed that [monthly active users] and paid subscribers would be negatively impacted, but that wasn't the case."
Usage in car, wearable and web platforms has dropped throughout the pandemic, although listening through TV and game console apps has grown materially as more people are listening at home. Spotify's data also shows that morning routines have changed drastically.
"Every day now looks like the weekend," the company wrote. Morning listening, more so for podcasts than music, is down, although listening time around activities such as cooking, doing chores, family time and relaxing at home is up double digits since the start of the pandemic. And, two in five consumers surveyed in the U.S. said they are listening to music to fight stress.
While the company has not yet undergone major layoffs, it will slow down hiring for the remaining three quarters of the year. It has reduced open headcount to 30% lower than it previously outlined.