Pinterest looks to seize on increase in ecommerce activity
A new integration with Shopify will allow merchants to upload their catalogues through Shopify, expanding Pinterest's advertiser base to smaller brands.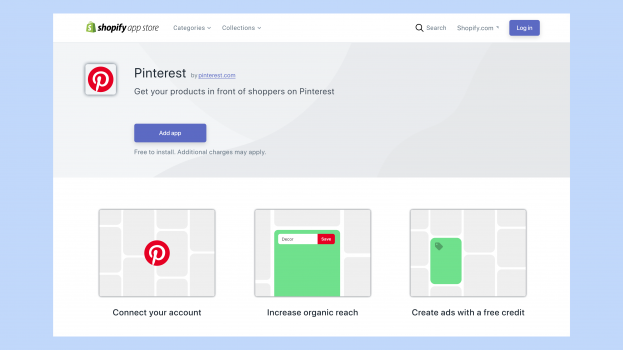 A new integration with ecommerce giant Shopify will give more than one million merchants a quick way to upload their product catalogs to Pinterest.
This will allow retailers – particularly smaller or medium-sized retailers and those who might be newer to ecommerce – to easily turn their products into shoppable product Pins. The app includes shopping features like tag installation, catalog ingestion, automatic daily updating of products, and an ads buying interface. The Pins can also be boosted as a paid ad.
According to a Pinterest Canada spokesperson, making the platform easier to use for a wider range of advertisers is a critical step in Pinterest's larger strategic goal of scaling and diversifying its advertiser base.
The easier it is to onboard partners, says the spokesperson, the more likely it is those partners will find success through the platform.
Once installed, the app will allow a merchant to deploy a tag on their website, upload their product catalog and quickly publish in-stock Product Pins. Businesses will also see a "shop" tab appear on their profile as an additional way for their products to be discovered. By uploading their catalog feed, merchants make it possible for people to discover and save their products and buy directly from their website.
Pinterest has experienced increased usage during the COVID lockdown, with a 60% year-over-year growth in boards created last month and engagement up nearly 75%. There's also been an increase in the creation of boards focused on virtual activities such as online courses and virtual baby showers.
The number of users who have engaged with shoppable Product Pins has increased 44% year-over-year. Total traffic to retailers has increased year-over-year and, due in part to early beta testing with Shopify, catalog feed uploads increased 144% in the first quarter of the year.
This coincides with an increased push toward ecommerce for consumers. While consumer spending is down overall (17%, according to RBC), retailers such as Simons' have found refuge in their ecommerce, with sales tripling for the Quebec department store. And, after initially taking a hit, categories such as electronics, appliances and specialty retail have crept up to pre-crisis levels despite stores still being closed. However, spending on categories such as apparel, jewellery and other SMB-friendly categories has struggled to recover.
Nevertheless, Shopify has benefitted from the push toward ecommerce. The Ottawa-headquartered company, which specializes in helping merchants create online stores, has seen its stock explode since the COVID-19 outbreak as merchants pivot to online sales; at press time the company' stock is at just under CAD $1,000 per share (three times its worth one year ago).